Sam Gouthro and us go a long way back. We first stumbled upon the talented San Diego-based producer back in 2015 and haven't stopped followed his journey ever since.
Personally, I love the organic sound of his beats, something which we touch upon in this interview, and have always found his music absolutely soothing. Earlier this year Sam dropped his Lately EP and we had the idea to invite him for a chat and of course - an artist mini mix with some of his favourite beats.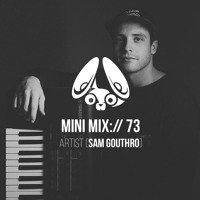 Stereofox.com
Stereofox Mini Mix://73 - Artist [Sam Gouthro]
Stereofox Mini Mix://73 - Artist [Sam Gouthro] - Stereofox.com
20:09
Tracklist:
Sam Gouthro - "Down For This" (Prod. Sam Gouthro)
Sam Gouthro - "Foreign" ft. (atlas)
Sam Gouthro - "Ice Cream Parlor"
Sam Gouthro - "Swells"
Sam Gouthro - "Lately"
Sam Gouthro - "Distant Lover" (prod. Greybox)
Sam Gouthro - "First Base" (prod. Entact) [free.verse]
What was the inspiration behind those 7 tracks?
I really wanted to focus on producing something that sounded completely original and organic. Something you could bob your head to while cruising with the windows down. I definitely wanted to jazz things up a bit and throw in some west coast flavor. Between the Rhodes Keys, Jazz Guitars & Psychedelic Synths, I think it came out pretty dope.
How does your average day looks like - is music production a full time thing?
Unfortunately it's not. I currently work as a full time employee for Costco Wholesale from 5AM-130PM. I'm also a Recording Artist for Majestic Casual Records & TRO (Sync Licensing). Its been challenging to find a balance but its an opportunity I'm extremely grateful to have.
How does your recording setup/studio looks like? Would you mind snapping a photo and walking us through it?
Thankfully I've been blessed with my own recording studio. My family owns a small 2-leveled music store in Chula Vista. Downstairs I've converted one of the lesson rooms into a recording space. I've collected a bunch of gear over the years but my current set up consists of:

- Isolation Vocal Booth w/ a Neumann TLM103 Condenser Microphone

- Questlove Breakbeats Drum Kit w/ Zildjian A Custom Cymbals

- Yamaha MOXF6 Keyboard Workstation

- MicroKorg Synthesizer

- Ibanez SDGR Bass

- American Fender Stratocaster

- Focusrite Scarlett 2i2 Interface

- Reason 7 (Software)
Do you play any musical instruments and how important do you think it is for today's producer? Does it help in any way given the abilities of the production software nowadays?
Keyboards and synthesizers are my primary instruments. I did play bass on my last vocal release, "Down For This", and sometimes I play guitar but not very much. I usually just use my guitars for subtle note layering. I'm not technically trained by any means but I would say musicians that are, definitely have an advantage to those who don't.

I'll admit production software is so advanced nowadays. There are producers who draw in all of their notes and are making tremendous waves in the industry. Personally, I prefer to play instruments and record real sounds. If you want to have an organic sound, you have to create it from something. The passion and emotion comes from the soul, and the soul is emitted through our playing.
I've always associated your music with the ultimate chill. Are you chilled guy in real life or rather one of those people who are constantly active and tinkering something?
I think its safe to say I'm pretty laid back. I think that's why I'm so attracted to R&B and Jazz tones. I feel like it just kind of fits my vibe. J
Who are your favorite producers & collective in the scene right now?
Tom Misch, Willem Ardui, Aso, Simon Jefferis, Austin Brown & Soulection (collective).
If you could collaborate with any artist, who would that be and why?
Hablot Brown. They're a newfound 3-Piece R&B/Soul band out of Los Angeles, CA. Linus, Austin, & John are all really great guys. Their music is so relatable and I think our vibe is very similar. We've talked about putting something in motion soon so keep an eye out...
What's the hardest thing you ever had to sacrifice in the name of making music?
I'd probably have to say my relationship with some people. I've lost touch with a couple of close friends because I've locked myself away for the past couple years. It's kind of sad but at the same time I wouldn't change a thing. I wouldn't be in the position that I am now if I hadn't dedicated my time to my craft.
What's next for Sam Gouthro in 2018? Could we expect another released by end of the year?
I don't know if ill put out another instrumental release this year, but I am finishing a folk song called "Stay" via TRO & I'm almost done with my next Majestic Casual release produced by Blue Wednesday.
Thanks for the chat, Sam! Any famous last words?
I apologize for not being able to put out new content as often as before but please don't sleep on me; I got some new stuff coming soon!