Lately I realized that it is not easy to look for new bands and simultaneously keep an eye on what's happening on the major market, so today I thought I would share with you my "5 Album Releases To Be Excited About In March 2013"!
Youth Lagoon - Wondrous Bughouse
Genre: dream pop / lo-fi
Release Date: 5th of March
After his critically acclaimed debut album The Year of Hybernation (2011), Trevor Powers - the genius behind Youth Lagoon, will be releasing his new album, which he stated will be based on psychological dysphoria and other elements of the human psyche. You can hear one of the tracks he released beforehand on Soundcloud - "Mute".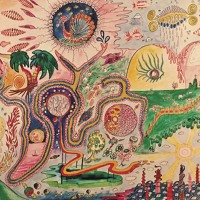 Fat Possum Records
Youth Lagoon "Mute"
Youth Lagoon "Mute" - Fat Possum Records
05:58
Wavves - Afraid of Heights
Genre: surf/noise rock
Release Date: 26th of March
Wavves has been on top of our song charts for quite some time and needless to say many on the team are quite excited about his new album! The duo Nathan Williams and Stephen Pope share in their press release that "the general theme of the record is depression and anxiety, being death-obsessed and paranoid of impending doom". Oh well, after Youth Lagoon's psychological dysphoria I see some trend going on! Pre-listen on of the track on the album called "Demons to Lean On"
Daughter - If You Leave
Genre: folk/acoustic
Release Date: 18th of March
The folk rock trio will be releasing their debut album If You Leave later this month! The Londoners, who won a lot of fans with their track "Youth" (which will also be on the album) will be working with Ken Robinson (Sigur Rós), so I reckon it will be a great record!
Black Rebel Motorcycle Club - Specter at the Feast
Genre: rock
Release Date: 18th of March
It has been a long time since I heard anything about those guys, so it was a pleasant surprise to read that their forthcoming album is coming up this month. Judging from the track they pre-released earlier this year, the album won't be a disappointment!
David Bowie - The Next Day
Release date: 11th of March
The announcement of Bowie's new album came out of the blue, which actually added even more hype around the release. Frankly said, I never got much into his music, but I definitely plan on listening to it at least once. There is free online streaming available on iTunes until the release date so you can check for yourselves whether it is your cup of tea!
There are tons of other cool stuff coming up in March, but for the sake of keeping the holy number 5, I will just briefly mention them - How To Destroy Angels, Rhye, Clutch, Bon Jovi, And So I Watch You From Afar! Okay, Bon Jovi was a blatant joke but I had to throw it in there! Any other suggestions, guys?