If you didn't know, All Good Records has been throwing down some seriously banger mixes to showcase some talented artists.  The All Good Radio series premiered with Freddy Todd and really caught me with the Manic Focus  and Minnesota episodes.
Now, there's something quite special about this mix due to Russ Liquid's skills, sound, and style. Instrumentals aren't just his thing, even though he play Sax, Trumpet, Flute, Keys, and more on stage.  No, he's also a dope producer and this mix captures that perfectly.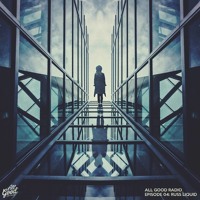 All Good Records
All Good Radio, Ep. 04 --> Russ Liquid
All Good Radio, Ep. 04 --> Russ Liquid - All Good Records
57:54
It starts off with an uptempo 80s beat to pump it up.  However, once that unreleased Exmag collab dropped, I was completely locked into this mix. He even drops his remix of Native Son by Gramatik.
All you have to do is simply look at the [missing] tracklist and you'll see the number of Track IDs signifies not only exclusivity, but that his music is an irreplicable experience.  Luckily, we can keep pressing play on this one.
I've seen Russ Liquid on stage with Gramatik multiple times and he brings some heat to live element.  His production and on-stage performance are most unique, so definitely check him out if you get a chance! Find him on soundcloud.