Stereofox Artist Mix is our newest initiative - a series of carefully curated mixes by our favourite artists (download link). This mix comes by the Italian post-rock band Platonick Dive: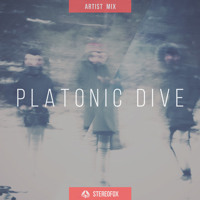 Stereofox.com
Artist Mix: Platonick Dive
Artist Mix: Platonick Dive - Stereofox.com
33:20
Our Stereofox mix is a real, short but intense trip into the deep & slow clubbing music. This is not the music we play, but it's the music we love to listen while clubbing. Sometimes we get inspirations from this kind of depth for our compositions and make a concrete "platonic dive" into fresh vibes of "underwater music". This mix is for people who never stop learning new things, who never stop dreaming and for the people who always open their hearts to the big beauty. Ok, it's time to turn off your mind. Enjoy!"
Tracklist:
01. Jamie xx - Sleep Sound
02. Avatism - Laments feat. Federico Rizzo (DeWalta Remix)
03. Michael Gracioppo feat. Wayne Tennant - Creep (Recondite's BT Ride Remix)
04. Guy Gerber & Dixon - No Distance/Rumors
05. Avatism - Serpentine (Clockwork Remix)
06. Kiasmos _ Driven
07. SVRFACE - You
08. Godblesscomputers - Nothing to me