Sometimes I spend an hour or more looking for a new band until I find one that is worth sharing on Stereofox. Today I was lucky enough to find one on the second minute of my search.
"Come On. Stand Out." by 7Bit Hero is a happy, happy tune! The genre is bit-pop and at first for a second I read it wrongly as Brit-pop. Spit out the R and you get a very energetic synth, 8-bit sound mixed with light-hearted and positive vocals.
This project is looking very promising judging by the intentions of its creators. 7Bit Hero is going to combine all in once a video game, an album and a series of videos. In that case, I will come back for more soon!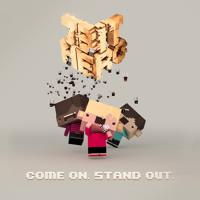 7bit Hero
Come on. Stand out.
Come on. Stand out. - 7bit Hero
03:24