I have been in a rut lately. With the dreariness of winter, it is quite easy to fall into. What I've really needed is a song to swoop in and lift my mood. Luckily, Montreal-based production duo Adventure Club has teamed up with Danny Harley of The Kite String Tangle to create a mesmerizingly danceable soundscape that goes together smoother than coffee and cream.
Abandoning their signature dub-step, "Wonder" is much more downtempo than most of Adventure Club's work. It focuses on electronically layered melodies entwined with the enchanting vocals of Australian artist/producer Danny Harley.
While this song is sure to please just about anyone with ears, the band's hashtags "tearjerker" and "play it for your girlfriend" might be my favorite part. So go ahead and play this one for your girlfriend, yourself, and everyone in between. Be sure to check out Adventure Club's recently released EP Calling All Heros.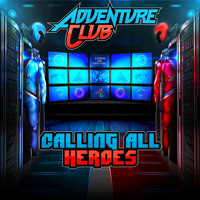 Adventure Club
Wonder Feat. The Kite String Tangle
Wonder Feat. The Kite String Tangle - Adventure Club
04:51