I think the first time heard of Caspian was in 2007/2008 (can't really recall that) when The Four Trees came out. Then in 2012 I had the pleasure of seeing them live in Barcelona and the gig made such an impact to me I even blogged about it (that's way before Stereofox existed). And finally the 3 other performances in Berlin and the interview we did with the guys (watch here).
I guess there's something utterly cool about following a band and seeing them growing and evolving as the years go by. Some say post-rock is sort of a stale genre, but I think Caspian are the perfect example how to push boundaries sonic-wise. Hell, it was really nice and interesting to see them premiering the album on NY Times. Music is music. Good music cannot be put in a "song without vocals" statement.
My first "experience" with Dust & Disquiet was when Phil and Jani organized the private listenings in Berlin back in May.
I must say it was the first time I've ever attended such thing and it was out-of-this-world experience. Just pure music. Not giving a damn about song titles, how many tracks are there left. No rush, just Berlin's afternoon sun and Caspian's music. I would refrain myself from using post-rock. It feels somehow "constraining" right now, if you know what I mean. I'm not trying to say this is not instrumental music or post-rock, it just gravitates also towards other genres and feelings in general.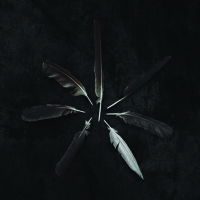 triplecrownrecords
Caspian - Dust and Disquiet
Caspian - "Separation No. 2" - triplecrownrecords
03:08
Caspian - "Ríoseco" - triplecrownrecords
07:52
Caspian - "Arcs Of Command" - triplecrownrecords
08:48
Caspian - "Echo And Abyss" - triplecrownrecords
05:44
Caspian - "Run Dry" - triplecrownrecords
04:36
Caspian - "Equal Night" - triplecrownrecords
01:56
Caspian - "Sad Heart Of Mine" - triplecrownrecords
04:27
Caspian - "Darkfield" - triplecrownrecords
06:36
Caspian - "Aeternum Vale" - triplecrownrecords
02:08
Caspian - "Dust And Disquiet" - triplecrownrecords
11:26
The first thing that really stuck to my mind is how awesomely disruptive "Arcs Of Command" feels after "Separation No. 2" and "Rioseco". As I said in my post review, if "Sad Heart Of Mine" was a soul shield, this feels like a blade. Something absolutely empowering.
Time for a new paragraph, because the next track is by far my most favourite one (after I would say 20+ album full plays). The vocals part of "Echo and Abyss" over that drum paradiddle is pure shivers. While the track still gives me this "on guard" follow-up feeling after "Arcs Of Command", there's somehow pulling down but in a way which makes you wanna resist. The track brought me back years when I discovered Caspian's mates Constants.
And after this intensity all slows down. "Run Dry" might be the ultimate surprise for the people, although after "CMF" I must say I always wanted to hear something tuned down and acoustic from the guys.
I won't go dissect every song. As always, if I share an album with you guys, I strongly believe the record should be heard from the first to the last record. Whether there's a logical sequence or not, it gives a good first overview before digging deep.
To put things shortly, this band will always be close to my heart and I utterly respect these dudes for doing what they do. I reckon it's not always easy and it's pretty complex and emotional at times, but I think it would be safe to say that for 10 years Caspian managed to establish themselves as one of the few bands which truly shaped a whole genre... and beyond.
Dust & Disquiet is out via Triple Crown Records / Big Scary Monsters.
Support good music. Besides iTunes (above) you can purchase digital, vinyl or CD copies - more info from bandcamp.