An album that starts with no fuckery and straight-up statements.
we'll forever drop jewels, these are uncut gems

we always stick with the tradition, never fuck with the trends
Get ready for a hard-hitting homage to classic hip hop. Uncut Gems (released via FULL PLATE) drops today to say I've been excited about it, it would be an understatement.
The 9-track record is the creative child of the Atlanta-based rapper/DJ Dillon and Grammy award-winning beatsmith and legend Diamond D. Fueled by 15 years of friendship and admiration, Uncut Gems follows their previous work on Dillon's dope 2017 release, Black Tie Affair (2017).
"After continuing to work together and kicking it over the years, it was only natural to do another project and to stretch it out to a full album." Diamond D shares similar sentiments. "Dillon is a dope emcee who just happens to be a student of the game and a boom-bap head. Us coming together was an easy mesh."
Right off the bat, the record grabs your attention with raw energy and an instant desire to do a stank face. "Pick up the Pace" is definitely living up to its title expectations and honestly, I had some serious Common Go vibes listening to it the first time.
Stay up to date.
New music and exclusive updates in your inbox weekly.
It won't take you long before you realize how beautifully cohesive the record is when it comes to production. I love the energy of every beat and how unapologetic Diamond D's work sounds. By the time "Comin' Out Swingin'" starts taking over the spears you know how well-thought and planned the flow on the record is. The track has a solid bluesy 80s vibe, paired with some South American brass work and it just got my blood going. The track features talented Detroit MC eLZhi, who was on Jay Dee's legendary Welcome 2 Detroit (2001) record. Needless to say, his flow is a celebration of hip hop and the perfect stage partner for Dillon's
comin' out swinging, you can feel the hook stinging
One of the album's pivotal moments (for me) is "Turn the Heat Up". If you dig groovy and funky scratches, you're in for a treat. I love the cheeky drops (ie 00:43) and in case you wonder - it is actually Dillon who handles DJ duties throughout the record.
Besides eLZhi, the duo has a few other dope features up their sleeve - the mellow vibe "Pardon Our Dust" featuring Planet Asia and Ras Kaas and "Just Breathe" with Stacy Epps and Slimkid3 of the legendary hip hop quartet The Pharcyde.
I wasn't planning on doing a track-by-track review, but just going with the flow and I can't miss on mentioning "Devil in a Blue Dress". Don't quote me on this one, but I guess that devil in a blue dress with which the protagonist made a deal is no one other than them cops.
The album ends with a spaced-out, rather mellow vibe thanks to boom bap delight like "Permanent Scars", which feels like an intimate confession.
The album comes with a bunch of surprises and goodies for lovers of the finer things in life. T-shirts, translucent gem blue 12" vinyl, cassettes (with bonus instrumentals), and even matches - all available for order on Bandcamp.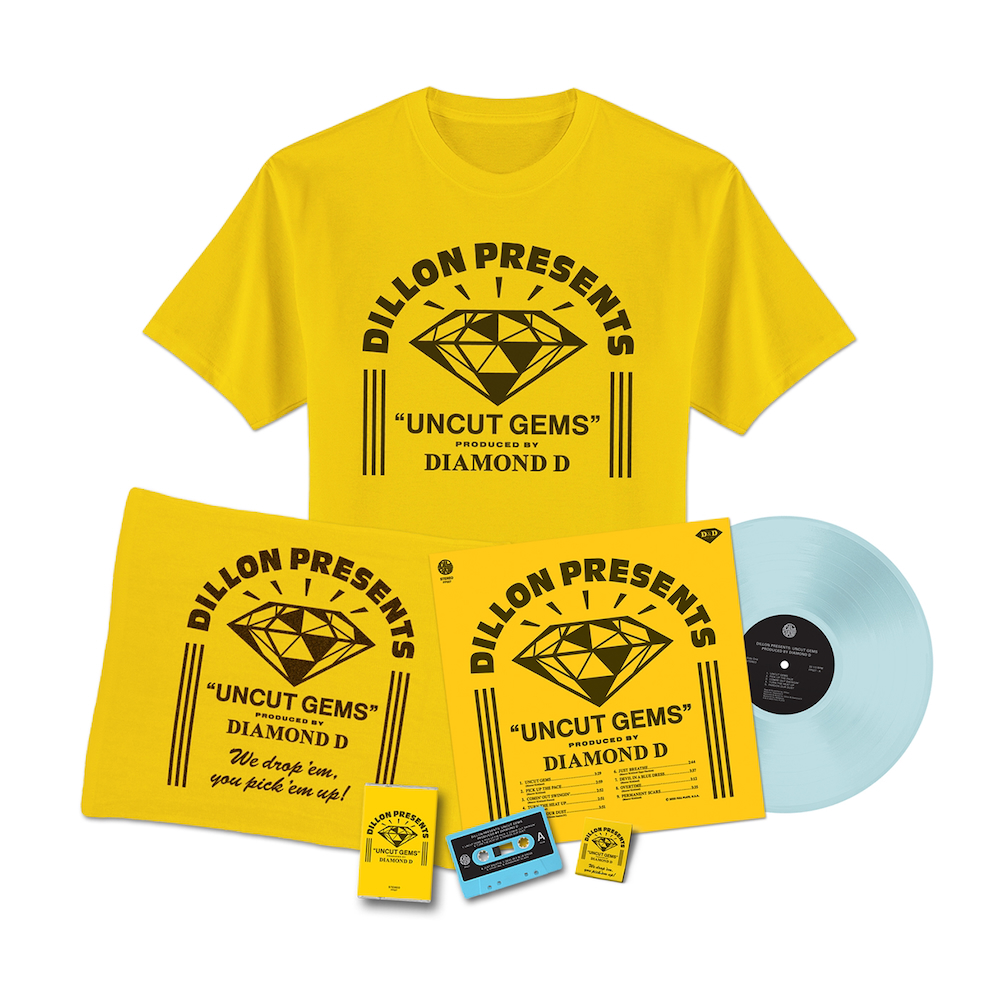 29 minutes and 3 seconds would fly by, but I imagine many of you, like myself, will need to re-experience the record time and time again. Even now, after spinning it for a few days I find myself digging in between the lyrics, exploring bits and pieces, and finding sounds I didn't pick up before.
There's nothing better than finding some Uncut Gems.
For more updates and behind-the-scenes - follow Dillon, Diamond D, and FULL PLATE on social media. Click here to listen/support on a streaming platform of your choice.
Find more on this in our Discord