I've had my ears set on the frequency of Max I Million ever since we featured a track from his release Uncut Gems titled "Deep" back in 2021. Today we mark a pivotal new step in the sonic journey of the Swedish beatmaker and I couldn't be happier to share with you a taste of his new record Shine On... literally a few hours after its official release via Coalmine Records. You can stream the album on a platform of your choice here.
"Shine On… is true to the Golden Era sound I grew up on, but it's also vivid, playful, and colorful enough to stand on its own feet as an instrumental body of work.", shares Max. I can absolutely vouch for that - after more than a dozen of streams of the album in its entirety, I can say with a hand on my heart - this is a true homage to the roots of instrumental hip hop.
The 12-track album is a breath of fresh air for everyone who is searching for something special in the overabundant sea of beat music nowadays. With each of the tracks, the gifted beatmaker consistently astounded me by presenting a myriad of ingeniously reimagined samples, infectious melodies, and imaginatively fashioned sounds derived from everyday objects. As someone who grew up with Starcraft in the late 90s, I loved the cheeky reference in the intro tracks. If you're as old as I am, I'm sure it will bring a smile to your face too.
The self-titled intro track on the album receives love from hip-hop luminaries and heroes such as Diamond D, Large Pro, and J Dilla's mother, Ma Dukes. More than just a collection of shout-outs, the intro sets the tone for Shine On… with its upbeat, driving musicality. "It's energetic with hard-hitting drums, small explosions, and things happening throughout, yet soothing with that super jazzy piano," Max further elaborates. "It's minimalistic, yet feels whole."
I can't think of a better follow-up of the intro than "On My Mind", which was released earlier as one of the singles prior to the official release. The beat belts out slowly before it eventually unveils the full picture - playful synths, perfectly layered hip-hop vocal chops, and dreamy jazzy background melodies.
Stay up to date.
New music and exclusive updates in your inbox weekly.
Max I Million's artistry transcends boundaries, continuously sparking awe and wonder in the ears of all who experience his musical prowess. One of my personal favorites must be "Maneuvers" and "Soul Medicine". Characterized by tight drumming and unbeatable energy, these tracks are a trip back in time.
I appreciate the respect Max pays to legends of the hip-hop and beat scenes, whether that's subtle or not. "A Vibe Called Blessed" is a wave you need to catch and I hope the title is more than enough to convince you to hit the play button.
If you love percussion, funk music and appreciate the power of dynamics when it comes to building a story, then look no further than "Don King". The minimalistic, yet captivating beat is a true hidden gem in the Shine On... sonic universe.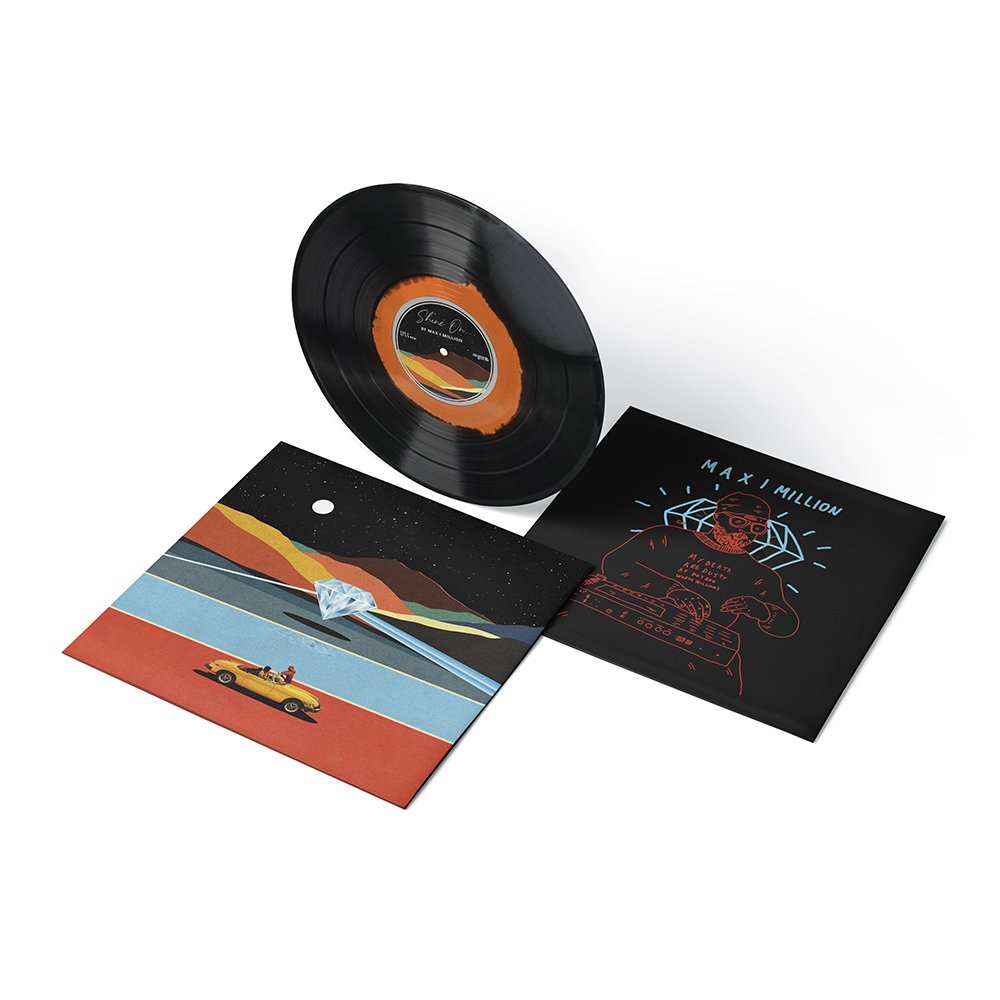 This sonic gem is also available for vinyl. The record is pressed in an eye-catching black, tangerine, and silver swirl color configuration on 180g vinyl. The album packaging also features an inner board sleeve with both sides illustrated by MC Blue Matter, with the main cover and layout illustrated by collage artist Jesse Stone.
Find more on this in our Discord