While this information is not new, recent Twitter discussions brought back the eternal question/request many Spotify users had. How to easily find tracks released by a specific record label.
The idea for this article came after a tweet by Chris Stoneman, a product owner at Spotify.
Our team at @Spotify is spending lots of time right now on how we might improve the Artist & Album Pages. What do you want to see?

— Chris Stoneman (@CWStoneman) January 30, 2023
People have been trying to figure this out because since the dawn of their existence record labels have been playing one essential role - curating music. Unfortunately, at the time of writing this, there's no official feature on the platform and you can't click on a label to see all of their releases.
While most record labels have Spotify playlists with their releases, I would love to see beautifully designed record label pages and I'm sure the team is working really hard to make this happen.
Until then...
How to search on Spotify based on record label?
In our latest Instagram reel, we showcase visually how to do this in just a few easy steps.
It's very simple and it works on both desktop and mobile Spotify applications.
To search for music by a specific record label on Spotify, you can use the search bar and enter the label name preceded by label:name. Let's say you want to see all of our own label releases. Simply type label:Stereofox and you'll see all artists, tracks, and albums released by Stereofox Records.
If the label name consists of two words (ie our friends at purity label), then it should be entered in quotation marks, such as label:purity-label.
This way, you can easily find all the music from your favourite record label.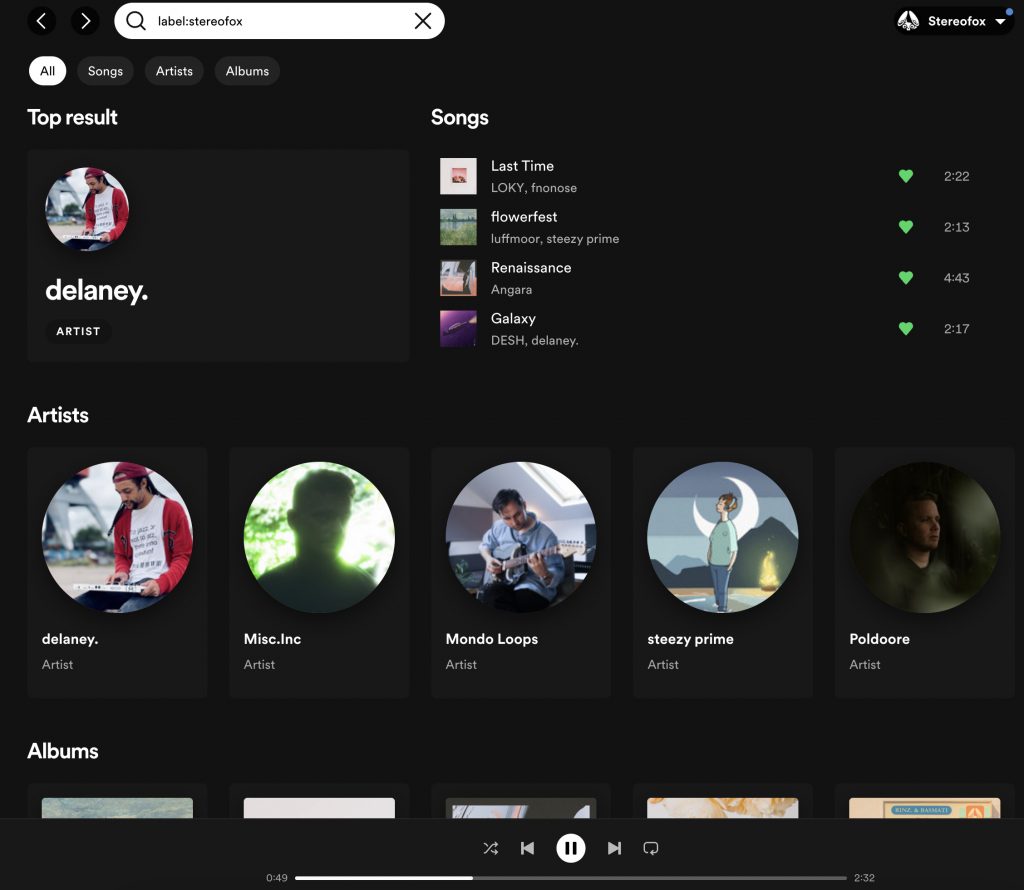 What other Advanced Spotify features are there?
That trick we just shared will not only work for labels, but also for specific artists, albums, tracks, release years, UPC, and ISRCs! Neat, right?
When searching for an artist on Spotify, it's common to encounter multiple results with the same name or tracks with the same title. To obtain a clear and specific search result, you can use the search term artist:artist-name in the search bar. Let's say you want to find everything related to Overmono.
You would enter artist:overmono in the search bar and this will help you find exactly what you're looking for on Spotify. It also includes any editorial placements, if the artist has been placed on such playlists.
A list of all the cool things you can filter by on Spotify.
artist:name
album:name
track:name
year:year
label:name
upc:code
isrc:code