Not sure how you guys feel about the end of one of the most brilliant series ever - "The Office", but we (Iva, Marisa and Ivo) are quite devastated! To honor the show and...just to have some fun we thought of recalling some funny stories and cool songs from the series. Enjoy!
Alanis Morissette - You Oughta Know (Ivo)
All office parties throughout the 9 seasons have been more than a blast! Nudity (Maredith flashing Michael), romance (Jim kissing Pam), jealousy (Erin wishing Andy's girlfriend being dead), horror (Robert California scaring the shit out of the guys with his horror stories) and of course a lot of fun and singing! My pick for most favorite song goes to one of the most beloved characters - Kevin, who in season 3 sang "You Oughta Know" by Alanis Morissette (video footage)! Killer song in original, even better cover by the witty accountant! Such a charmer, right?!
Travis – Sing (Iva)
I believe every straight girl, who has watched The Office, has had a crush on Jim. I realized mine when he and Pam were listening to "Sing" by Travis on his iPod. In this extremely "aaah" moment, I remember thinking: wow, even his taste in music is awesome. The brit-pop monsters Travis hardly need any introduction, I am sure you all have heard of them and if you haven't, you should feel embarrassed and fix that.
Travis' enormous merit to modern pop and rock is undeniable, yet what I find most amazing is that somehow everyone likes them. There are bands that are loved by some and hated by others, yet no one actually has a problem with Travis. And it is only fitting that their classic "Sing" is the soundtrack to a classic Jim-and-Pam moment.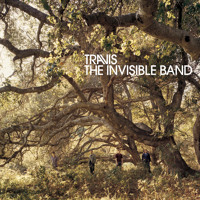 Independiente
Travis - Sing
Travis - Sing - Independiente
03:48
The Blam - Various Disgraces (Iva)
Café Disco is one of my top ten The Office episodes. Michael turns his old Michael Scott Paper Company office into a dancing room with an espresso machine. Phyllis throws out her back while busting a move and after being treated her like an injured horse, dances with Dwight to "Various Disgraces" by The Blam. Dwight usually doesn't dance, but as he puts it, "this song is amazing".
Though released in 2003, the track sounds so delightfully 1990s pop rock, it could have easily been the soundtrack to a teen romantic comedy (Ten Things I Hate About You comes to mind). The Blam are pure oldschool American indie rock I'd put together with The Barenaked Ladies (Canadian, but hey, same continent), Smash Mouth, Lit, if you will. But I guess the 2000s were not too kind on the genre and after only two albums The Blam split up in 2005.
Chris Brown – Forever (Marisa)
Truthfully, Chris Brown's music is not the kind I normally listen to. Nor did I ever think I'd be posting about it on Stereofox. But when I hear "Forever," all I can think of is those smiling faces dancing down the aisle. The entire wedding scene is the epitome of The Office- pranks, fun, friendship, laughter, dancing, romance, and Pam initially getting slightly annoyed but immediately giving into the realization of how much her coworkers do truly care about each other… even if they would never admit it.
I'm not married myself, but if I was, I'd like to think my friends are equally awesome and creative enough to pull off a similar stunt. This scene, song and feeling is iconic to the show, and one that continues to make me smile.
Andy Bernard – I Will Remember You (Sarah McLachlan Cover) (Marisa)
Andy singing a "farewell song," is there any way more perfect to remember and celebrate the finale of The Office?