Bonus Points and his beats came on my radar after the guys from Chillhop Records crafted a mix for us last year. Chris' music quickly grew on me and after listening to just a few tracks, I already managed to get a feeling of what kind of sound he's going after and to be able to pick his work out of a thousands of beats out there.
I'm really stoked to share with you the mini mix he created for our Mini Mix series (number 50!) and the interview we did together. Super insightful and interesting! Oh yeah, also the mix contains unreleased so far track, so we're in for some good times.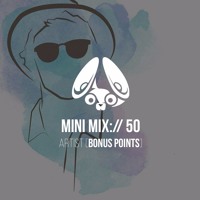 Stereofox.com
Stereofox Mini Mix://50 - Artist [Bonus Points]
Stereofox Mini Mix://50 - Artist [Bonus Points] - Stereofox.com
22:07
Tracklist:
01. Bonus Points - Subway Fresh (Unreleased)
03. Basement Love - The Look
04. Bonus Points - It's Better This Way
07.
Ian Ewing
- Futari Flight (w/ Flamingosis)
Hey, Chris! Where do we find you today?
I'm from Wildwood Missouri, about 30 minutes outside St. Louis city
Before anything, our standard question - how would you describe your mini mix in one sentence?
I'd say funky pool party.
How did you get into producing? Do you have a musical upbringing or playing an instrument or software was the first thing you picked up?
In 8th grade I got an electric guitar for my birthday and taught myself different things throughout high school. When I got to community college I was really bored of playing melodies/riffs on it with nothing to show from it, so I went out to Guitar Center one day and bought the Fl Studio at that time.

After that I kinda dropped guitar and would mess around with different synths and sounds that I couldn't make on the guitar pretty much every chance I got.
You're releasing an insane amount of (awesome) beats. How do you combine this with graphic design. Do you ever sleep?
Thanks man. Yeah it gets a little hectic at times and I definitely spend lots of late nights working on projects for school because I tend to put music before homework during the day. Being in design though is nice because I've been able to make a lot of school projects based on my music and then tweak them a little so it works for certain releases/Bonus Points art.
I would boldly assume you do most of your artwork. Your Warmer Winds EP's artwork is one of my all time favourite - is that the main connection between your major and music creation? Also, have you done work for other artists?
Actually for the Warmer Winds cover art we hired someone to work on that, I had too much school work going on at the time to work on both the songs and the design. It was done by this super dope artist named Daniel Jones, we talked about it back and forth with the Chillhop crew until it embodied the EP and what I was looking for perfectly. As for other work, I've done a couple things for some collab tunes I've worked on. After college though I want to expand more and work with other artist's  releases.
Where does the love for funk / soul music stem from? What was the music you were listening to while growing up?
That's a good question, I'm not entirely sure. Growing up I pretty much listened to everything but I was always intrigued by hip hop music solely for their instrumentals. When I first started producing I was making dubstep beats and although it was cool, I had stopped listening to it myself and found I wasn't enjoying it as much as I was hoping so I decided to just start sample searching and making music that I like to listen to myself and I guess that's been working for me so far.
Who are the artists you would love to collaborate with and why?
Oh boy, there are a ton of artists I would love to work with. Starting out I would definitely say Flamingosis, the guy has such a way with his samples that just makes you want to get up and dance.

Ian Ewing would be another one, his sound is so clean and all parts of his songs are so well thought out. I also think it would be dope to work with a singer like Melanie Rose, that would be some smooth tunes.
What's ahead of Bonus Points in 2017? Touring / releasing more music?
Definitely a ton of music coming out all over the place. I plan on doing some live shows and as for touring, who knows? Maybe, it sounds like a blast but for now I'm just letting things flow pretty organically and seeing what comes up after I graduate college in May.
Who are the most supportive people when it comes to your music path?
I think my close friends and family have been behind me since day one, also everyone out there taking the time to hit me up and chat really motivates me to keep pushing forward with my music.
Wtf is vaporwave? Thx :)
Haha honestly wish I knew too but from what I understand, it's super slowed down 80's music with a couple sample chops to create…. a e s t h e t i c s.
I have the feeling you really love sun and warm weather - if you could choose a spot to move for 6 months and record an EP where would that be?
Probably Aruba, I got to go there while I was still in community college with some friends and it was beautiful with so much to do
Pizza or ice cream?
That's a tough one but I would have to go with pizza, can't say I've had a bad pizza before.
Thx for the interview, Chris! Any last words of wisdom / shoutouts?
Thanks for having me on here! Just want to say a huge thank you to everyone out there who's been feeling my music. I never would've thought that me making some music in my college apartment would lead me to be able to connect with so many new people all over the world. It's been incredible so far and i'm excited to see what's next.
Stay in touch with Chris's music and listen to more of his beats on Bonus Points' Stereofox Artist profile. Grab a free download of the mix here.