A few weeks ago one of our artists Boyan told me about a new platform where artists can do live streams and vinyl giveaways while connecting and talking to fans. Naturally, as a collector, I had to check it out, but what I saw was beyond my expectations.
FROW, the platform we're showcasing today, is one of the most engaging ways to not only meet other people passionate about music and records but discover new artists and dig deeper beyond the music. Learn about the people behind the art, and understand stories, inspirations, dreams, and hopes. And all that in less than 5 minutes (you'll know what I refer to if you read the interview). The app is currently available on iOS only, so if you're one of those Apple users - I highly advise you to check it out. There are really cool daily giveaways as well!
I had the pleasure of talking to FROW's founders Peyman Khanjan and Sébastien Villeve who founded the company in 2021 and talk about the inception, the now, and the future of the product.
I must say from personal experience - both as a fan and label owner (our artists Boyan, Leena, Kamen and GENA did giveaways on FROW) - everything bout the product is superb.
Hi guys, let's start easy. What's FROW's elevator pitch?
Stay up to date.
New music and exclusive updates in your inbox weekly.
FROW is a community-based marketplace for music, built around live experiences.
Music is in the digital age, but Artists are craving human connection and the ability to engage and interact with Fans. FROW is fixing this by creating live digital experiences bringing together artists, vinyl collectors, and music obsessives to discover vinyl in a refreshed new way.
Every evening, FROW invites an Artist to present a record he/she released for only 5 minutes (with a timer!) after which a winner (among the viewers) is drawn live and will win the record.
Tell us a bit about you - the team, who is behind FROW and what's your story?
FROW was launched in 2022 in London by the two of us, Sebastien Villevet and Peyman Khanjan, out of a desire to channel our combined love of music and technology into a dedicated community-based marketplace.
We met online during the COVID lockdowns and decided to combine our talents to build a cool app to support Artists, with the community at its core.
What inspired the conception of this product?
During the COVID pandemic, we believed that hybrid concerts would be the future of live music and decided to build a platform around a mix of live, in-person events and online broadcasts.
We quickly realized that the future of music was not about live-streamed music concerts, but more about connecting communities around live experiences. We also noticed that the platforms to buy vinyl records have been developed more than 20 years ago and did not embrace the "mobile revolution", built around video, live, and user-generated content.
Do you remember your first vinyl?
I started my record collection in 2008 with a second-hand find of a Strictly Rhythm Records collection on eBay. This lot included "U.P.I." – Without Love (1994), which is still part of my collection today!
The app is currently available for iOS only, any plans for Android folks?
We are focusing on improving the iOS app at this stage and don't have a plan to launch an Android version in 2023.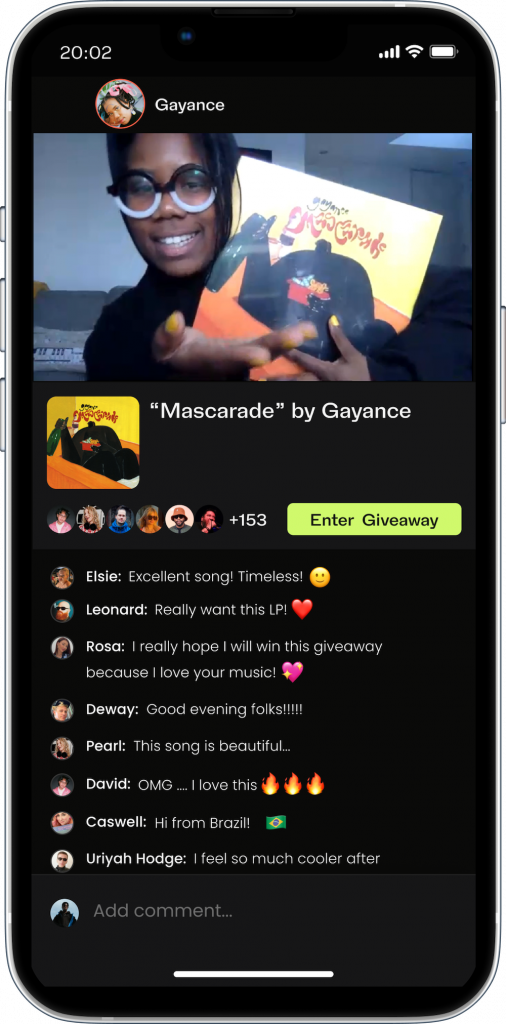 I love the fact that I can find different chat rooms and connect with fellow vinyl heads in-app. How are you approaching community building?
We started nurturing a vinyl heads community before launching the app, using Instagram with our "Digger of the Day" mini interviews. An interesting way to discover how people are collecting, their favorite stores, and photos of their collection.
We have been designing FROW to help people feel connected to others and the chat rooms were the easiest way to achieve this.
Where do you see the growth when it comes to FROW in the next 6 to 12 months?
We would love to help more artists launch new music or pre-order campaigns on FROW. There is nothing more soulless than (pre-)ordering a record via a "link in bio". We believe the best way to launch new music should be around fun experience artists:fans and also fans:fans.
How can independent record stores and labels sign for FROW?
The easiest way to partner with us is to download the App and connect with us via clicking on "Sell on FROW".
How did you come up with the concept of 5 minutes? Is that the optimal time for an artist to sparkle attention in potential future fans?
Initially, we launched our live experiences with unlimited format but it was not successful due to our short attention span and also for Artists who are usually very busy.
A five-minute experience (with a timer!) seemed to be the best format: high retention, and enough time for the Artists to talk about their journey and release. It has now become a sort of 8 PM (UK) ritual!
What would you advise artists who are yet to do a live on FROW?
The most important is to have fun! FROW is all about authenticity and spontaneity while connecting with new audiences. Our users are fascinated by the magic of organic discovery: we believe that curated recommendations from "real people" mean more than suggestions from an algorithm.
What's next in terms of features on FROW?
We will introduce a way to buy music (physical or digital) directly from the live experience. We are also figuring out how users could share their feedback directly with the Artists.
What's the last record you put on your record player?
"Third Plane" by Ron Carter.
Find more on this in our Discord