I stumbled upon ♅ GRISFX ♅ and his music because of playitlouderr's latest compilation Medicine For Your Soul. His track "Amethyst" while labelled chillhop/lofi, was something very different from the majority of beats out there. That really sparkled my interest in the Belgium producer and I discovered a whole new darker world of electronic/beat music. I got quite hooked on his Witch Stoties release and given his mysterious presence online felt like interviwing him would be an awesome experience.
This is darker, heavier and definitely trappier than my usual sound, but it's a great new experience I am stoked to share with you. GRISFX also dropped us an exclusive mix, which I hope you enjoy.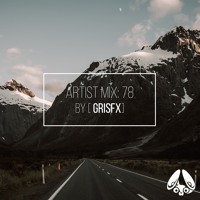 Hey GRISFX ! Tell us a little bit about yourself and add the most random-est fact about you.
Bonjour, I'm a Comics book writer from Belgium and I started creating music in 2010, however, I think my sound started improving only in 2015. When you are working on another art project (in my case with comics) it's hard to be at 100% when it comes to producing. All you need is time! A random fact… well, since a year I joined a Baseball team in my city too and since I suck at baseball, it's a lot of extra work too.
How would you describe the mix you made for us in a sentence?
It's actually the two sides of my music preferences, the dark and the light. You will find some dark trap & witch house blended with some lofi & future bass
How did you start producing and is it a full-time thing right now?
When I was 15 I bought a turntable and started learning some scratch's tricks. After months of practicing I wanted to create a "beat loop". So, I started making some 15 sec loops, with jazzy samples and simple drums. That was the start of it. I wanted to create more, so I started to longer and longer loops which eventually turned into songs and before I know it, I abandoned my turntables for the music production.

At the beginning I was making music with a lot of samples and it took me averagelty 2 to 3 hours to create a track. Later on, as I decided to move away from sampling, I started composing everything by myself - something you can hear in my album Elements (GODAÏ) released in 2015. It was my first self-composed album and I really cannot count the hours I spent on each song.
Your sound is pretty diversified - from bassy and glitchy electronics to super spacious and calm beats. Many producers often use different monikers to release different genres - have you thought about this?
Actually, I did consider it for a while. My next project is really inspired by the actual move of the lofi music, of course I added my own touch, some 808 bass and cloudy synth, but it's really different than my last release "Witch Stories" which is really dark and brutal. That being said, at the end of the day it is still me and how I perceive music, so… I decided to keep my name. I prefer working on full albums and EPs rather than single releases as I am able to tell stories through music.
What does your studio look like? Do you mind snapping a photo and walking us through the setup?
My computer, some midi pads and a microphone.
What was the first beat you ever made? Do you keep the files somewhere around?
I don't have the first beat, because my old computer crashed, but I have around a 7 years old beat which I decided to put at the end of my lofi tape. It's a chill one and I just reworked the kick and snare to make hit more "heavy". I think it's my only old song I actually still appreciate. Everything that I posted in the first years of music creation was really bad, but I remember that I was listening it and enjoying it hahaha (idk how I did it haha, it was really bad...)
What's the biggest thing you had to sacrifice in the name of music making?
Time. When I have to choose between the drawing and music it's just too hard. I'm always stuck between those 2 things, and I know, if I choose just one of them, I can be much better at it, but I don't want to choose just one. It's important for me to tell stories via both medium.
Thoughts on labels and collectives nowadays? Important or not?
I'm waiting for them. I tried some labels in the past, it helped me a bit to grow my audience, but it wasn't the support I wanted. Now I'm just waiting the right one, who will contact me and really love my music.
What's the story and inspiration behind your album First birthday without a girl?
I was in a long relationship and my ex broke up with me. That was when I created the song "I'm so sorry, I'm not use to be alone" which spiralled out most of the tracks in the album. I tried to compose them as a break up, like a relationship, with some high and low points. These tracks can be really happy at the beginning and then sad at the end.
You are also a Illustrator & comics writer - how did you get into that and where can we check your comics?
I wanted to tell stories and emotions, drawing was the first medium I found. I started creating comics when I discovered manga, and I loved the way develop the characters and background stories. It is incredible.
Favourite illustrators who inspire you?
A lot, but my favorites are Taiyō Mastumoto, Masashi Kishimoto, Ruppert et mulo, Gipi, Guillaume Singelin, Valentin Seiche, Yohan Sacré, Mortis Ghost and many others !
What's on your playlist nowadays?
Lil Peep, all the discography. I love it so much. My homies from soundcloud (check my repost feed). PNL, my favorite French band. When I just wanna chill or when I have friends over, I play the Chillhop YouTube channel. Also, I do drawings for them too.
What's next for GRISFX? Live shows, more releases?
Some live shows are coming, probably before the summer. I don't have time and any manager/booker who can help me with that, I'm only in touch with people who match on my music and ask me to play for them. Generally it's around 5/6 live show who are planned each year, predominantly in Belgium and France. I would like to play in the Netherlands and I'm sure the public can be cool with that future witch trap shit.

For the releases.... I'm giving some breath from my last project « Witch Stories ». That's why i'm not posting a lot of music lately. I'm still working on a project with skypierr - we planned to make an ep first, which eventually turned into a full album,. We love to work together - it's the perfect fusion!

I have that lofi project too, but I'm still working on it, if you want to keep posted, just follow my feed (soundcloud or facebook). It will probably be out before April ! The album is almost done and now I'm actually working on the artwork.
Ask yourself a question. Something you haven't been asked, but want to answer to.
Hmm, then I would ask about my latest project Witch Stories and what's the story behind it.

So, the story began when a young man met a witch. Black petals fell from the sky, the moon was shining, and they kissed. Their love was both dark and light. Here is their story. ☾♡

I think it's the project which took me the most time to create. I spent around 6 month to finish all these songs (around 50/100h of work on each track, sometimes I can spend hours with filtering and adding effects on my bass until I find the good one. I love these deep and strong vibes inspirited by the witch house and the dark trap. But I can't produce that kind of music often as it takes me a lot of energy. That's the reason why I'm switching between future bass and lofi. It helps me relax. That being said, I will continue to produce these witchs vibes in the future. Witch Stories is definitely my favorite project and I'm already working on a volume II.