I can still recall the day I found Headphone Activist's "Ocean Floors" back in 2015 and what an impact it made for me. It was actually one of the first bass-heavy and trap-ish inspired songs that got into my "sonic" universe and later on was the reason to open up my radar to the scene and finding tons of great artists who ended up featured on Stereofox.
If you had told me back then that in 2020 we will be running a label and we will be signing with him I would laugh at your face, but life is weird and here we are - it's April 2020 and we're gearing up for a project that will span through most of the year. During the past few weeks, I got to know Pete quite a lot and I thought it would be great to introduce him properly to our community and to have an open and honest chat about things.
Where does the name Headphone Activist come from?
The origin of my name is from an Atmosphere record. Мy personal connection to the name is the idea that music ignites feelings, memories, and energy that would not be possible to feel without the assistance of sound.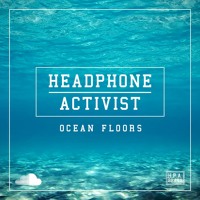 Headphone Activist
Ocean Floors.
Ocean Floors. - Headphone Activist
03:52
What's the most random fact about you that even people around you wouldn't know.
Hmm, I have never been asked that question before. Okay, well as a hobby I do creative writing exercise's in my spare time, stories, screenplays. I find writing a story is way more entertaining than watching one on TV.
Our community will get to experience a whole new side of you. Coming from a very EDM / trap-heavy scene and with significant experience playing live, you're venturing into a new direction. Tell us a bit more about that.
Sure, so I have been active in the electronic world for 10 years now. I have produced everything from drum and bass records, film music, cloudrap, and of course my classic collection of "trap" influenced records. I have always loved to write and release records that relate to where I am currently at in my life, and over the past few years I have been diving deep into Jazz and lounge music.

As I began to discover lofi / chillhop music, I became massively intrigued and inspired by the similarities of old jazz and lounge music and how it connects with what is happening with the lofi movement. For me this was the next logical step in my project. The records go a little deeper on my melodic sound design, however even tho this is a new sound for me, the vibe is still the same. 
Tell us a bit more about your musical 2020 so far. You've been releasing tons of music and it doesn't take long to realize there's a strong relation between the tracks you're putting out.
20for20 was an idea I came up with to shift up my day-to-day aspect of the project. Over the past few years, I have become a huge fan of content curators on Twitch/Youtube. At some point I realized I wanted to offer the same type of experience for my fans but with music instead of videos.

So, I sat down and put together a collection of new and old records that we started releasing every week. The results were pretty amazing, and I plan on continuing this method in the future.
I always wondered - how do you find the creative energy to compose so much? What's the one thing that inspires you in your surroundings?
Lately my inspiration is knowing that one day I will no longer have the energy to write, and that I will just be exhausted with creating new sounds. So, now I am doing everything I can to continue to write more music. In this case, I am stepping away from "trap" music and into "swing beats". Other inspirations include films, books, or just trying to capture a feeling and translate that into a song.
What's the hardest thing you had to give up in the name of music?
Nothing really comes to mind. When I worked for other people in the past and had a regular job I sacrificed things all the time. Mostly my creative drive and my passion for music. 

Now, I am my own boss, I make my own hours, and I get to connect, travel, and experience life the way I have always wanted to. If anything music gave me so much instead of  taking anything away.
What's your studio setup at home (can you take a pic and walk us through it maybe)?
Here are some screen shots of the programs I am using. My actual studio is a shared space with my girlfriend. I have my desk, my computer, and I write all of my tracks in FL Studio. I create and mix everything in beyerdynamic DT 770 Pro headphones and then I do my play backs on Cloudflight wireless headphones from Hyperx / my car sound system.

On the other side of the room is a massive collection of paintings, stones, and awesome items she has collected while traveling around the world. The space is a shared mediation room / studio so it makes for a great space for writing lofi music
What's your goal for 2020 as an artist and how do you see people like us - labels in your vision?
Honestly, until we started working together I had very little interest in working with a record label. In my experience most "record labels" are just trying to monetize off of what is relevant in the music world. I have been pitched by plenty of companies over the years and its always the same story - "hey we love your music, we would love to feature you on our platform we think it would be great for your career".

In reality I see very little marketing, and brand building for the artist, and most of the energy seems to be focused on the label's growth. Now to be clear this is not every record label, just the majority of companies I have encountered.

So, when we began to discuss working together I was massively intrigued by your interest in helping me get my music to the right people who want to hear the style of music I am playing, You also had interest in my long term goals. Our discussion didn't feel like you just wanted an artist that you hoped would go viral if they released a record with your label. I truly love and respect Stereofox for that.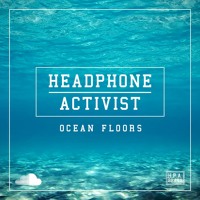 Headphone Activist
Ocean Floors.
Ocean Floors. - Headphone Activist
03:52
Speaking of labels, what's the one advice you would give to labels out there. What should they be doing in order to truly support artists?
Without trying to sound redundant, focus on quality over quantity. if you really believe in the artist, you are signing then show them. A lot of shops could take notes from you guys at Stereofox, Wakaan, Luckyme, and other labels that really take care of their rosters.
Coming from your name, what is a cause or campaign that's closest to your heart now?
Definitely Gamers Outreach.

Their focus is to support kids and teens as they undergo treatment in hospitals. their company use's donations to purchase these machines which are then used in hospitals as way to help bring joy to those in need.

I originally learned about the charity from watching my favorite streamer on twitch MarkstromTV who is a big supporter and active member of the G.O. Community. It important to have causes that you care about, and for me this is one that is worth donating too. A lot of us are very fortunate to have a healthy life, and its easy to forget that plenty of kids and young people have to spend a large portion of their youth in hospitals trying to get healthy to live like we do. I love knowing that even if someone is stuck in a hospital for the summer, maybe they can at least go have a fun adventure on Skyrim, or have one of the streamers they watch on twitch stop by and game with them.
Any famous last words, Pete?
Hmmm, well If you made it this far down in the interview the first thing I would like to say is "Hi, and thank you for supporting me and my music".

In closing, I know at the moment the world is sort of upside down. All I ask is that you take care of yourselves and the people that are closest to you. Focus on your hobbies and the things you love to do to help you pass the time, and I have some new music dropping with Stereofox at the end of April that will be a great addition for your day-to-day soundtracks.