I stumbled upon Karim Kahar towards the end of last year and I was immediately drawn by the captivating sonic experiences he's painting with his music. His 2022 debut EP Tarot released via Parisian label Amsem Records is a breath of fresh air in the alternative electronic scene and I'm happy to be able to peak beyond the music and to get to know him. Special thanks to Gabriel for making this interview happen.
Hey Thomas, where do we find you right now?
Hi! I'm currently at Studio Noir, a recording and mixing studio created by Apollo Noir and Maxime Maurel in which I moved in last summer and spend most of my time recording for myself and for other people.
Tell us 1 random non-music fact that not many people know about you.
I'm stereoblind, so seeing things in three dimensions is a fascinating concept to me.
Stay up to date.
New music and exclusive updates in your inbox weekly.
How was Karim Kahar created?
I've been making music for roughly fifteen years, and have accumulated an embarrassing amount of different aliases and side-projects that sort of turned into a running gag among my friends. As a musical project, Karim Kahar is something that I had been working on for a very long time, but I couldn't get to the point where the music felt satisfying or even remotely close to what I was aiming for in terms of music or sound design.
I pretty much locked myself up for two years and somewhere along the way came the first E.P., Slang, which was released on Apollo Noir's Santé imprint in June 2021. To make sure I wouldn't change my alias ever again, I simply took my middle name, Karim, and my Moroccan-born mother's maiden name. There's been a few times when people struggled with the fact that I'm actually half Moroccan and that this is not some weird cultural appropriation thing, which I find quite amusing.
I know you drew a lot of inspiration from your childhood for the creation of the Tarot EP. What's the most vivid one?
Watching the opening credits of the Kingdom Hearts video game for the first time as a kid. There's something about the dreamlike atmosphere and sheer melancholia of the characters that's stuck with me ever since, and that was a big inspiration in the writing and production of Tarot.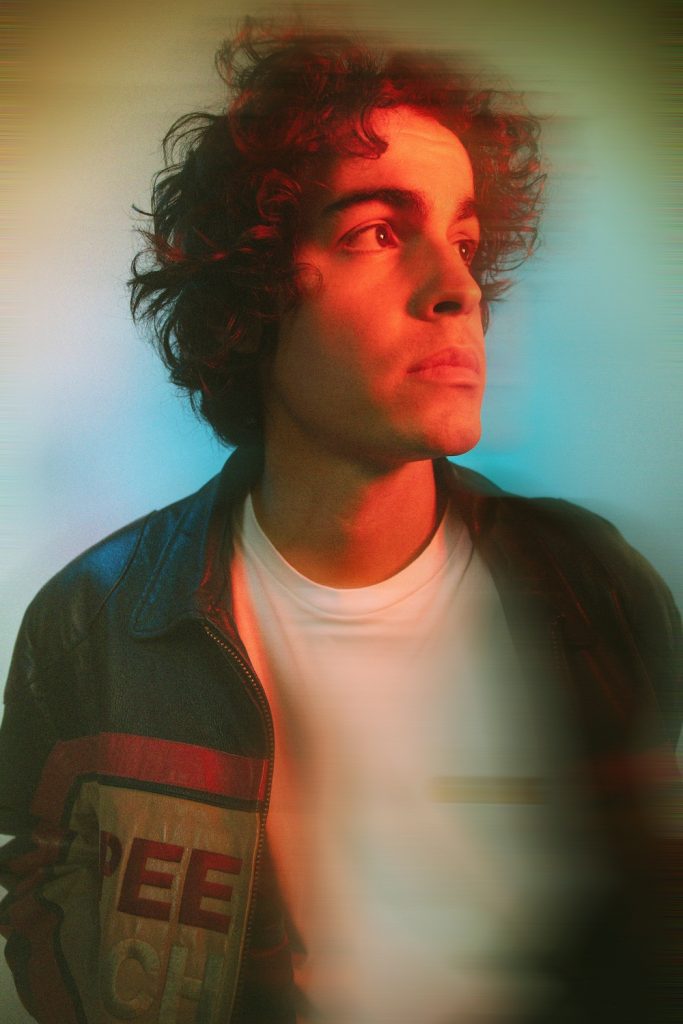 Besides being a producer, you're also a sound designer - what new trends in the field are you excited about?
We're entering a very exciting era in sound design, where software developers have the creative and technical freedom to conceive and design tools that aren't necessarily responding to a rational, specific need, but rather offer the possibilities of exploring abstract, and in a way, poetic approaches to sound creation. I just love it when a software has buttons labeled with weird shit like esoteric symbols or obscure wording rather than "on/off".
Do you prefer creating music for games, videos, installations or anything goes?
Anything goes really. I had the opportunity to create music for short films in the past, and I'd love to score a movie or a video game one day. I'm currently writing a 3-hour long sound piece with Contours, a sound design studio for an exhibition called Entropic States curated by Tomorrow Bureau that will take place mid-February in Paris, which has been an incredibly inspiring experience so far.
What's your background, did you study this or naturally fell into the sound design track?
I studied classical guitar as a kid and played it for most of my teenage years, but otherwise, I just learned through trial and error and asking around. Growing up in a family of music lovers that didn't consider pursuing a career in music an option, I would just obsessively record and produce music every time I'd get a chance to while pursuing studies in advertising, a major I randomly picked at the time. After several stints in non-music-related jobs, I got an offer for a sound designing position based on a few demos and kept doing it ever since.
People who inspire you in the sound design field?
So many! The firsts that would come to mind are Richard Devine, Ryoji Ikeda, and Alva Noto.
I saw you played live in Paris for the Ansem Records' showcase, what was the experience like?
I only played live once actually, it was in March 2022 for a Santé records showcase, which was super fun. I'm currently working on a new live that I should hopefully play in the near future.
You were born and raised in Paris, what's the alternative/electronic scene like in there?
It's interesting because despite Paris being a small city where you have pretty much met most people in the scene by the time you turn 30, there are so many different collectives and labels curating great events and pushing alternative electronic music at the moment in clubs and squats. Places like la Station, Mains d'Oeuvres, or le Sample are doing an amazing job at showcasing both the local scene and curating great line-ups.
Tell us a bit more about Ansem Records - how did you guys connect?
Amsem is a Parisian label and creative studio run by Marco and Constantin Rousseau. I've known Marco for almost ten years through a mutual friend, and he's always been very supportive of my music. I had him over for lunch, played the first demos of "Aftercare" and "Collage" and he immediately offered to put a whole E.P. out. We DJ together as a closing act from time to time which is always a lot of fun too.
As an artist, what do you value the most in a record label in 2023 - what should they bring to the table?
It's quite commonplace to say it but in 2023, an artist has to become his or her own's manager, artistic director, graphic designer, social manager, etc., which often leaves very little to zero time to actually get music done.
In my case, Amsem has always been very supportive and patient with my painfully long creative process, and always provided me with the resources to fully execute my crazy ideas, the video and video game created for my track "Aftercare" by C'est Ainsi and Reve Studio definitely being one. Marco is also very good at understanding someone's vision and I value his advice like no other when I get stuck with a pile of unfinished demos.
What's on your playlist these days, something we should be listening to right now?
Sega Bodega - Kepko
Kumo 99 - Adjacent Casualty
Demdike Stare - Overstaying
Bôa - Duvet (Acoustic)
What's next for Karim Kahar 2023?
Several remixes and a few singles before summer, and maybe an album at some point :)
Find more on this in our Discord