While I've featured just 2 of his beats, leavv is definitely in my top beat discoveries in 2018. The German-based producer crafts silky, chillhop-driven lullabies, often blended with gentle piano melodies - the kind of music one might consider "an emotional blanket". I've spend hours listening to his track "Voyage" while staring in the nothingness... gorgeous.
Naturally, I had to invite him for an interview and he left us a smooth, 20 minutes long mix for your pleasure.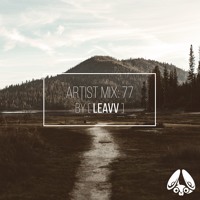 Stereofox.com
Artist Mini Mix://77 by leavv 🎧 chillhop | lofi hip hop mix
Artist Mini Mix://77 by leavv 🎧 chillhop | lofi hip hop mix - Stereofox.com
20:00
Tracklist:
Joe Corfield - Grey Kimono
AK420 - Scorpion Style
Devaloop - Holzige Süße (Instrumental)
Uyama Hiroto - Route 16
Noyland & Hulk Hodn - Locker (Instrumental)
Hey! Thanks for the time and the mix. Before anything, I like to start with asking artist to share the most random thing about themselves. Something that most people probably don't know.
I've got a real soft spot for Lego spaceships.
How would you describe the mix you created for us and what was the inspiration behind it?
A collection of (some of) my favorites this year, tracks that I could go back and listen to anytime. Each of them has at least one element that I could draw inspiration from and a lot of these are tracks I surrounded myself with during the production of my album Mind Garden.
Where does 'leavv' come from?
It's really just a mix of 'leaf' and 'leave' and I really like the letter V, so I put two in there for good measure. Feel free to interpret it your own way. There's also a track by Clams Casino called Leaf, an old favorite of mine.
You've released beats with some of the most notable collectives and labels out there - is it easier this way than doing things on your own (as an artist)?
Just speaking for myself here, if a label/collective is able to offer you a good platform, to put you on the map, that does make things easier in many ways, yeah. I feel incredibly grateful to know all these great people who support and push each other. Nothing but love to you all and a special shout out to the guys at Chillhop!
View this post on Instagram
How did you started producing and was there a mistake you would avoid if you were to start all over again?
I first got Ableton back in 2012. Before that I had been playing the piano and a little bit of guitar, but I really wanted to make my own tracks with drums and everything, hence the move to a DAW. My biggest regret is quitting piano lessons after like 8 years when I was in my edgy teen years. I want to come back to that one day, it taught me so much about music.
What's the most peaceful time of the day for you and why?
The time just before dawn and then shortly after the sun has disappeared again, when the sky has that nice gradient from light blue to almost black. There's just something very calming about it, especially in the morning when everything is still quiet. You can open the window and all that's there is the wind, some birds, maybe rain (and sometimes the Autobahn, haha).
In the past few months, every time I feel down or overwhelmed I end up playing your beats. They give me such a great sense of... 'everything will be already'. Where do you find inspiration for your music and how do you feel when listening to them?
That means a lot, thank you. There's so much inspiration out there, I like to keep things fresh by meeting new people, visiting new places. Some of my tracks were inspired by a situation or event at the time, others are about ideas and thoughts for days to come and of course there's a bunch of nostalgic venting going on as well. I've never been good at settling with a certain sound, I prefer letting things evolve naturally. And while I do have my own ideas for each track that come to my mind when listening, my intent is to leave room for interpretation by others.
What's on your playlist these days (besides chillhop)?
It's been all over the place for a while now, including ambient, phonk, new wave oldies and metal. Some of my favorite names for the cold and dark times of the year are Burial, Fink and Goldmund. 
What is your proudest moment as an artist so far?
Looking back at the past 12 months and realizing how many people I have been able to connect, collaborate and share sweet moments with.
What's next for you professionally?
I have many things either in the works already or at least planned. There's a side project in progress which deviates from my usual sound. Besides that, expect various collaborations for 2019.
If you could ask yourself one question, which one would it be and what's the answer to it?
Do I have a track that brightens up any day? For me, that would be Modal Soul by Nujabes.