B-side has been in my playlists ever since I got into instrumental hip hop... which was around the time I moved to Berlin. I've had the pleasure of talking to Lukas online throughout the years and have had nothing, but love for his art.
I was listening to a blnkspc_ beat the other day, then I moved to TESK and that spiraled into a sudden urge to reach out to him and invite him over for a chat. The whole thing, I kid you not, both questions, answers, and the mix was done in less than 24 hours. B-side is chill vibes all the way. I hope you guys find this interesting and you enjoy the laid-back mix he put together for us.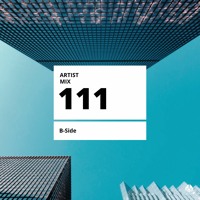 Stereofox.com
Artist Mix://111 by B-Side 🎧 chillhop | boom-bap | instrumental hip hop
Artist Mix://111 by B-Side 🎧 chillhop | boom-bap | instrumental hip hop - Stereofox.com
21:46
Tracklist
01 ØDYSSEE - Suuurf w Hubert Daviz
02 TESK - F££L¿ LIK£
03 Flitz&Suppe & B-Side - Nuit Blanche feat. Mr Käfer
04 blnkspc_ - Uncover
05 JUICEB☮X & Flitz&Suppe - Really Sorry (Instrumental)
06 The Breed - Squirt Juice
07 Dramadigs - Fall in Love (Skit)
08 C Y G N - Caught her eyes
09 Rob Arujo - Drive by
10 nymano - i wish i could sleep
Hey Lukas, where do we find you today?
Most of the time in the basement-lab.
How would you describe your mix in a sentence?
Music that inspired me a lot the last years. Of course there are a lot good ones left!
Tell us the most random fact about yourself not many people know?
I started producing jungle and drum n bass music in 2007 hahaha
How did you start producing?
My cousin gave me my first cracked fruity loops when I was around 14. Somehow never stopped making beats from there.
Why B-Side? Is there where the good stuff is?
First, it was just an idea of making the b-side of a track by flipping a sample. Meanwhile, it's just a name and I don't care too much bout names so I kept it, hahaha.
What's the one hardware (besides your laptop ofc) you can't live without when it comes to making beats?
In my case my old m-audio axiom mk1 I bought from a roommate around 10 years ago. But could replace it with any midi keyboard. Most important would be my beyerdynamic t1 headphones.
What's the best piece of advice when it comes to music producing you've ever received?
Be patient and always do music for yourself not others.
Where do you see the beat scene developing into?
It's crazy what the beat scene already became. Couldn't ever imagine such strong networks like nowadays. Happy to be part of such a big community.
Did becoming a father changed how you view the world? Not just the music industry but everything around you.
Hahaha, becoming a father changes everything. I guess every father can relate to that. I overall became happier, especially with little things. But also became more realistic. Still have to learn to be more patient though!
I love TESK and we had him over a few years back. How did you guys meet and what's the story behind blnkspc_?
We both studied at the same university in Darmstadt. He already had a super clean sound back then and mine was really crap. Luckily I learned a lot from him :)
Over the years we've made a lot of music that we decided it makes sense to release everything under an aka. So blnkspc_ was born.
What's the hardest thing you ever had to sacrifice in the name of music?
Music has always been an escape from real life for me. So I spent a lot of time over the last years. I guess the only thing I really had to "sacrifice" is sleep... and my old boss probably hates me because of my priority list, hahaha.
You're also into photography. Does this go hand in hand with making music and what does it mean to you?
Photography is a hobby for me as well as music. I always love to create, visuals as well as audio. But honestly, I am just jumping around with an iPhone and taking flicks. There is no big deal about it. It's just another way of expression and I love urban architecture.
As someone living in Berlin, I know the German beat scene is one of the strongest ones in Europe when it comes to instrumental hip hop and boom-bap. Why do you think that is? What is fostering this amazing community?
Maybe it started with the vinyl hype. Two of the biggest vinyl shops are german (HHV and Vinyl Digital) and they did a lot for the scene. I always saw a close relation between vinyl and instrumental music way before streaming was on the radar. Loved the time back then, when you were just uploading beat after beat to SoundCloud with the final destination to make it on a vinyl one day.
Who are some of the up-and-coming producers on your playlist these days? Someone we should be checking out right now?
It's really hard to say without leaving somebody. It's crazy how many talented people are out there. Every time I am opening my release radar I find somebody new who is dropping excellent quality. Too hard for me to name specific ones.
Thanks for everything! If you could ask yourself one question what would that be and ofc what's the answer?
Thanks a lot guys! Kush or haze? Kush! :)