I first heard xander.'s music last year and I was immediately drawn by the sound crafted by the US producer. His latest work, the singles that were the build-up towards his new LP Bliss were some of the most organic-sounding beats I've heard in a while.
I was curious to find out more about his process, inspiration, and ability to captivate people, hence this interview.
If you're interested, we also recorded a podcast episode of the Fox Tales with xander. which you can listen to below.
Hey Xander, tell us a random non-related fact about you that not many people know.
I love cars, it's my side hobby to build cars and make them fast. If you want your car to go fast you know who to hit up haha.
Stay up to date.
New music and exclusive updates in your inbox weekly.
You just dropped your new album Bliss, how would you describe it in a few sentences? What does it mean to you?
Bliss is an album that combines jazz elements with hip-hop and soul. That's the best way I can put it in a single sentence. I chose the name Bliss because every song on the album made me feel happiness and joy while I was writing it. The album-making process was filled with true passion and wonderful experiences. I met some wonderful people and made some wonderful friends while working on this project. I hope the listeners have the same reaction.
What would be the ideal setting to listen to the record (if you could choose it)?
I was mostly bumping this project in my car, but when I was driving on a scenic route, this album hit me even harder. If you live near a beautiful drive, drive it and listen to this project! Also, a great project to take a walk/run to.
What's your workflow like especially when you collaborate with people like Søren?
Usually, I get samples sent to me and I build it from there. Søren would send me a piano melody and I would start with the drums and add more elements from there. Soren's piano is always inspiring to hear so I sometimes immediately know what I want to do with it.
You play guitar, and drums (that I know of) - do you think it's important to actually play an instrument to be successful in the beat scene these days?
I think it definitely helps but if you focus on one instrument only it gives you an excuse to collaborate with people and make friends haha. It's always a pleasure to collaborate with talented instrumentalists and I highly recommend it.
What do you think is the future of the lofi genre, would it evolve somehow?
Lofi is evolving on a daily basis; there is some stuff out there that sounds identical to something else, but that goes for every genre; however, there are some talented artists out there who are really pushing the lofi genre. I believe it is evolving into a more active listening genre, and I believe that is what many lo-fi artists, including myself, are attempting to do with it. There are now lofi shows, which is great, and there will only be more.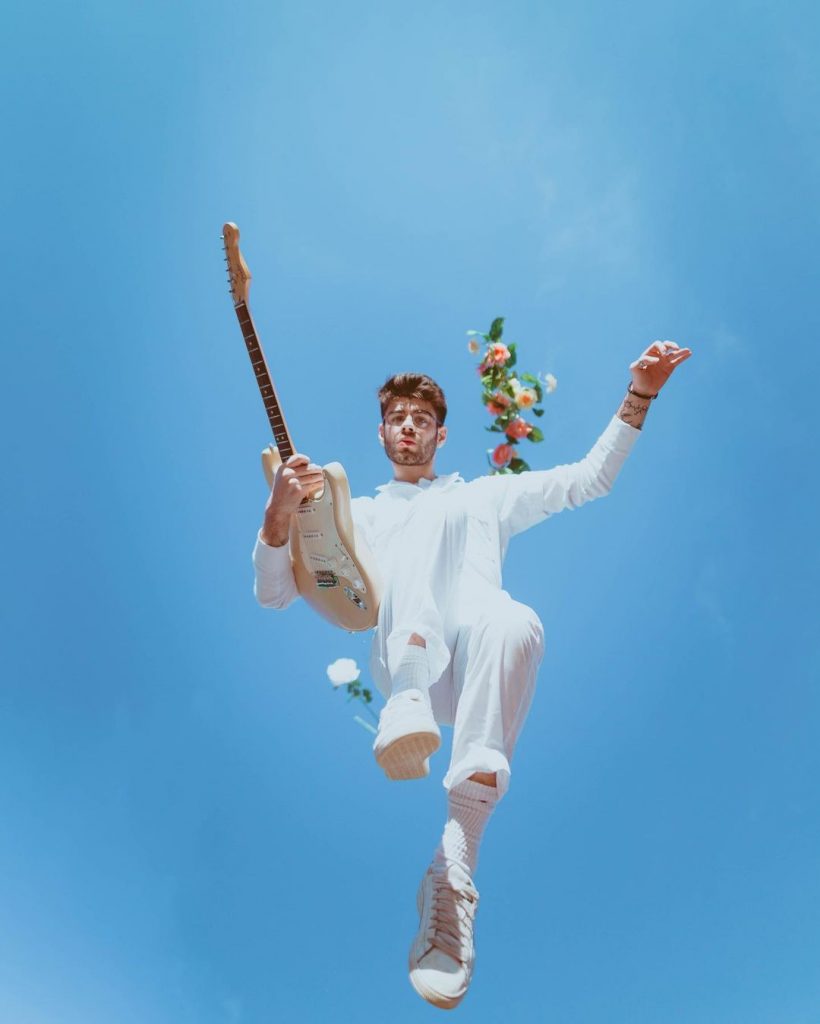 You cite Tame Impala and Knxwledge as some of your influences - how do artists from such different genres impact on your view/work in the beat scene? What did you learn from them?
Tame Impala and Knxwledge are some of my biggest inspirations, they both push the limits of the genre they create and that is exactly what I am trying to do with lofi/jazz music. And their production is just amazing, truly great artists.
What's your studio setup like? Do you mind taking a picture and taking us through your gear?
It is nothing too crazy, two Yamaha monitors, three pairs of headphones to use for mixing, SP404 I use for effects and videos, and a few guitars and pianos. The basics of what I need to make what I want to happen.
Do you have any advice for young and upcoming lofi producers?
Keep making and creating, there are so many great opportunities in this genre and I am sure your dreams will come true! Collaborate with artists and focus on making great things!
Who is on your playlist these days?
I have been listening to a lot of alternative r&b and indie pop stuff such as Gallant, Fred Again, Skrillex's new stuff is amazing, and some jazz upcoming artists like Rita Payes and Elisabeth Roma. I have a whole variety of genres on my playlist right now.
What's the beat scene like in Boston where you're based?
There really isn't much of a beat scene out in Boston. Although it is growing and becoming a little more recognizable. We got a couple of lofi artists out here but not too many. Hopefully, Boston will be put more on the map for that scene!
What's next for you this year?
I have many many things coming this year, an album is in the works with Elijah Fox aka Soren Sostrom, and a couple of other projects that I cannot announce just yet, and then I am working on Meek Mill's new project that is set to release soon as well. A lot coming that I am very excited about!
Find more on this in our Discord