The track "i miss new york" along with the summer on the inside project with warner case was my gateway into the world of Jean Tonique. In that world, you're bound to find an eclectic combination of hip hop, house, and 70s/80s funk that makes up Jean's aesthetic. He's well known as a stellar multi-instrumentalist with several EPs, albums, and remixes for the likes of Lana Del Rey, The Kooks, and even Outkast.
During the lockdown, he channeled his 70s-tinged nostalgia into a new project with acclaimed film music composer and songwriter Mi Man. As long-time friends and frequent collaborators, the synergy that sparked in their studio birthed the official duo Tonique & Man. And together they've crafted an entire album titled Opening Soon coming out later this year themed around owning a pizza restaurant throughout the visuals. In this interview, the duo opens up about the process of making the album, their partnership, and much more.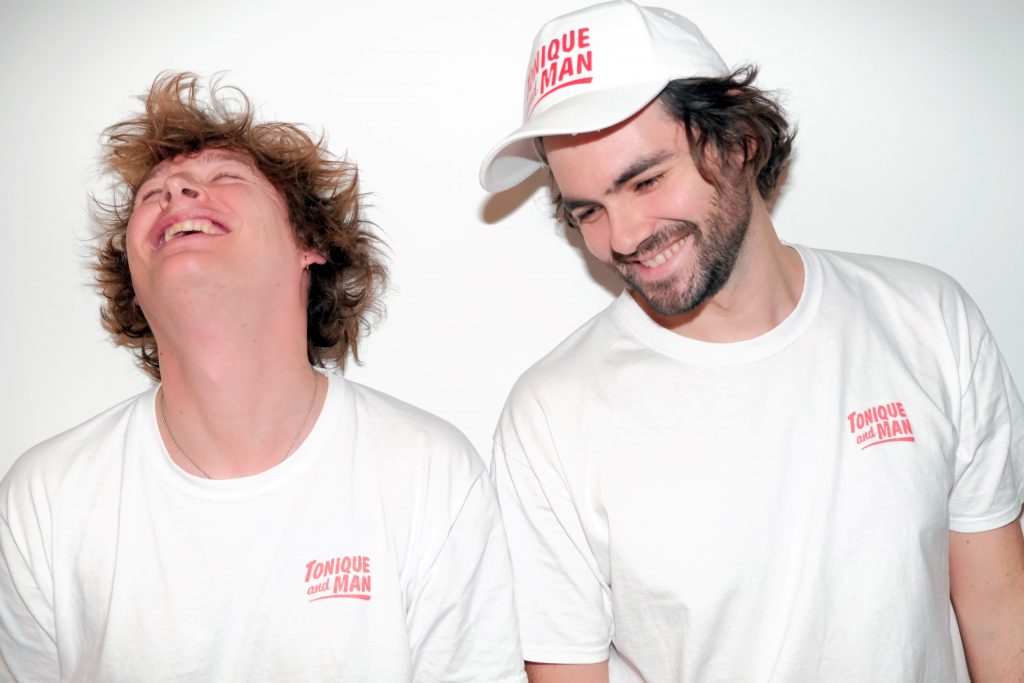 For those who don't know - how did each of you get involved with music?
Mi Man: I didn't get much choice! My parents put me into the local conservatory when I was 5! I really "got into music" though around 13 when we started a heavy metal band with a friend of mine.
Jean Tonique: I started music around 6 at the conservatory. I learned the classical percussions then moved on to play the drums in bands when I was in middle school. Music production came a bit later, when a friend showed me some turntables and the "electronic" side of music.
At which point did you know that you two wanted to form a duo together?
We have been working and helping each other on our respective projects since we met. We produced Mi Man's first EP together in 2020 during the lockdown, and he then got booked to open for Benny Sings in Paris 2 days before the show. As we didn't have enough songs to play, we had to quickly write a new one, which is now part of our upcoming album and most certainly the starting point of our duo!
How did the idea for TONIQUE & MAN come to life?
Music came first. We spent a few days in a country house writing all the demos. It was only later, when almost all the production was done, that we sat down and started to think about how we wanted this project to come to life. Merging our 2 names sounded like a brand or a small company name, and we thought it was a pretty good idea.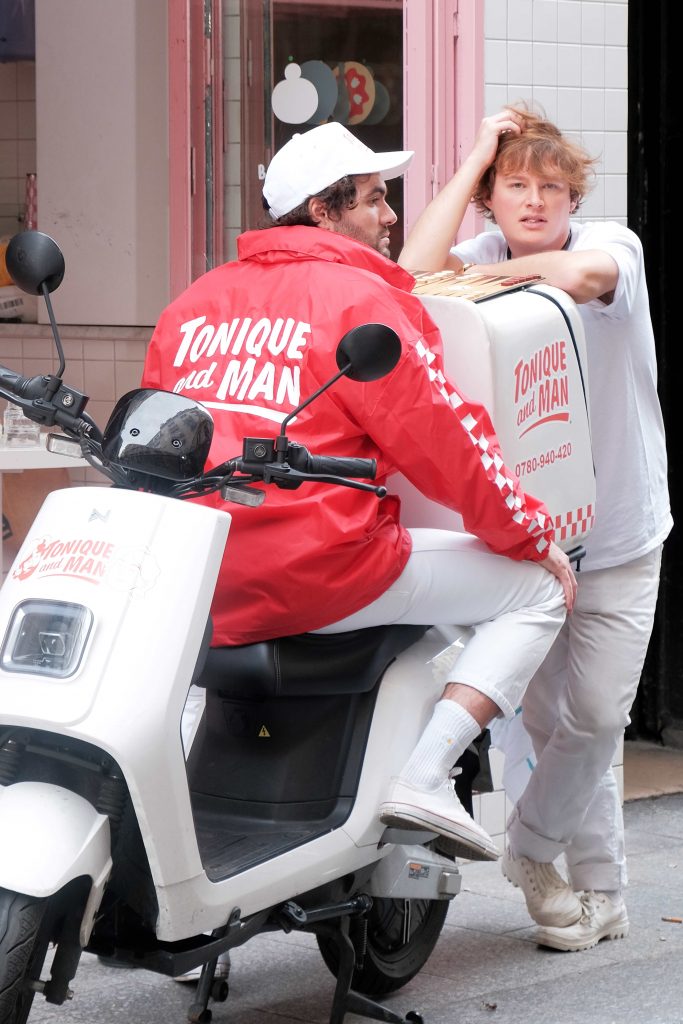 Why did you decide to spin the whole album's concept around a restaurant?
Well we're French so we like food! During the repeated lockdowns Jean Tonique started to bake all kinds of dough, and especially pizzas. Pizza was also an important part of our creative process as it was our "go to" when we had a break during recording or production sessions. So when it was time to think about a music video for our debut single "Running After Time", the idea of the restaurant was pretty obvious! And then we threw a bunch of stupid ideas at each other and came up with the whole concept.
Okay, you have a restaurant and a total stranger comes in, which song of the album would you play for them to hear first and why?
Hum… tricky one… There's a track for everyone on this album, even though a strong coherence bonds every track to the others. "Day & Night" seems to be the one we'd go for, because it is the starting point of this album. It's a sunny track, easy to sing and listen to as well as very representative of a good portion of the album.
You say that the track "Running After Time" blends all the music that you love. Can you give us a few examples of artists that inspire you?
We come from different musical backgrounds but we pretty much have the same taste music-wise. We're as much inspired by music from the '70s (Chic, George Benson, Bee Gees, Queen…) as we are by contemporary pop artists (Benny Sings, Parcels, Harry Styles, Metronomy…) and French electronic music (Daft Punk). We mix all those influences to create our own recipe!
Which song in the album is your favorite and why?
Mi Man: Hard to say, it kinda changes every day, but the romantic part of me, which I'd say represents a good 70% of my whole self, pushes me to pick "Memories", the last track of the album. It is an achievement for me, no other track moves me as much as this one.
Jean Tonique: "You Make Me Feel So Good", or maybe "Day & Night", or even "Memories", what kind of question is that?!
What is the overall mood you guys are wanting to put the listener in by the time they're done with the album?
The album is a look back at our lives, we're both over 30 now and we are at an age where we've sorted a few things out, we got to apprehend ourselves a little more than when we were 20, but we're still subject to many doubts. "No one really knows" sums up the whole idea of this album, lyrics-wise. So we'd like the listener to step into this album and go through a variety of emotions, reflect a little bit on him/herself but especially dance, have a good time, and enjoy every minute of it.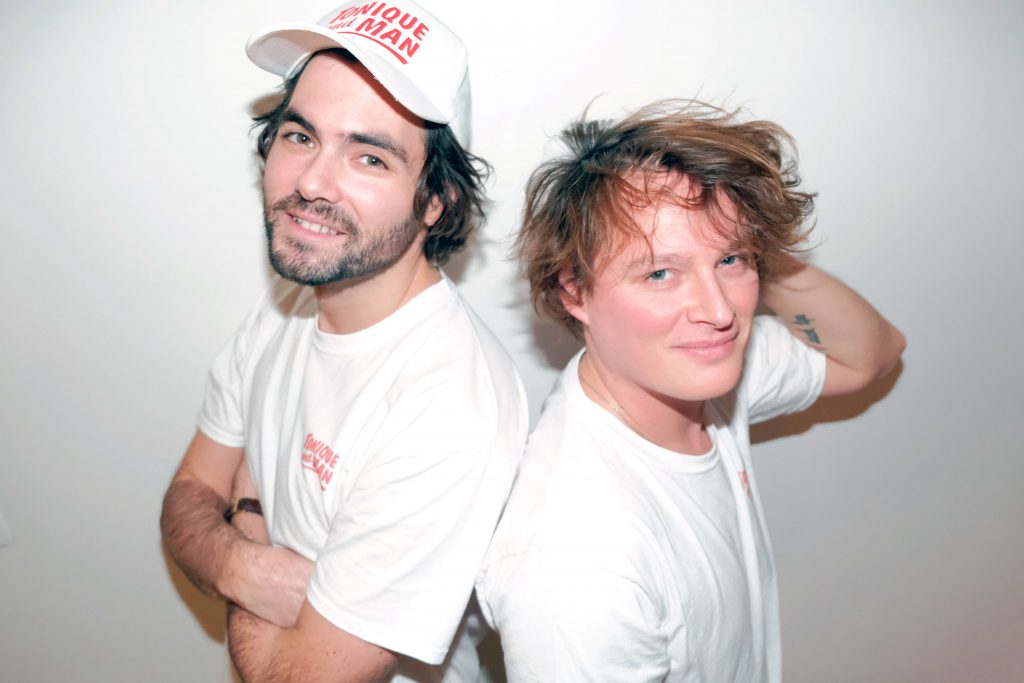 What exactly was your songwriting process for "Opening Soon"?
It was a very intense moment, we went to a house up in Normandie for a week, and spent 7 days and nights working on writing demos. We brought a few ideas along, but most of them were written there. We didn't have a technique other than throwing ideas to each other's face and trying them out, each of us getting inspired by the ideas of the other. It was basically a ping-pong game. Once we had our demos, we went on to write the lyrics and record and produce everything properly.
And last, but not least - which are your favorite pizza toppings?
Man: I always switch at the last moment to choose a Regina. Simple, elegant, tasty, just like the album!
Jean Tonique: Diavola is the one for me, the authenticity of the Margherita with the spianata to spice it up!