23rd September , 2016
This anonymous, west coast based producer belongs to the Philos Records collective whose lineup is stacked with those conveying messages through sampling and beat-making. Styles is no different, but completely different at the same time.  If you've scanned Stereofox the past months, you've seen us cover Philos regularly, as they're a voice in modern musical production we highly respect. Plus, they all know how to throw the eff down in their own unique manner.
Due to release Estilos EP on Philos Records September 26th, Styles in Black lent us some words about his background and projects accompanied by an uptempo mix with influence across eras. Styles is quite unique in that he a displays diverse background on sample-based production. With his flip of "The Next Episode" we premiered just some weeks ago, you get an idea of what I mean when comparing that to this mix.
Hit that play button on that mix and give the interview a read!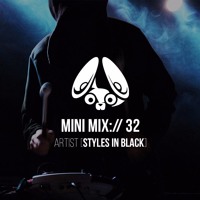 Stereofox.com
Stereofox Mini Mix://32 - Artist [Styles in Black]
Stereofox Mini Mix://32 - Artist [Styles in Black] - Stereofox.com
31:49
TRACKLIST:
1. Styles in Black - Better Get Hip!
2. GUTS - Mambo Flying Party
3. Sweet Life Society - Bam Bam (Sweetest Sensation)
4. DJ Bombay - durff-from-01
5. ProleteR - April Showers
6. Super Spanish Combo - Ritmo Callejero (Calagad 13 Remix)
7. Jungle Fire - Comencemos (Renegades of Jazz Remix)
8. VOODOOCUTS - Get Fonky
9. Skeewiff - Boca Beats (Adriano's Groove)
10. Palov & Mishkin - Basmati Rice
11. Styles in Black - Check out Dis
12. The Geek x Vrv - Trumpet Dancing
13. Derlee - All My Life
Dude, thanks for being on the mix series. To start, what's the story behind Styles in Black?
I'd been traveling for about a year making music out a backpack. Living in tents and hammocks and such. I feel like that's a great way to start a new musical project. When you're limited to what you can carry, you end up being more experimental. I went from DJing and playing acoustic instruments to using sampling as a way to convey how I was feeling.

One reason I hadn't been releasing music was because I couldn't think of the right name. I was in a little hut at the time and there was this notepad where I'd been keeping a list of 90's hip hop artists I needed to check out, and for some reason the name "Styles in Black" was on that list. I'm not sure where it came from. I looked it up, and all I found was a devoted following of people posting pictures of Harry Styles from One Direction in black clothes. I knew that taking the name risked an inevitable rivalry with Harry, but personally I think I look better in black anyways. So I took the risk. I'm still kinda pissed that they took my instagram and twitter handles though.
Also another simple question: what is it about producing and performing your music that keeps you happy and interested?
Every once in a while, when you're producing and performing, you enter a flow state. You just wish that everything could stay like this forever. I get that at my desk job sometimes, but it's a lot harder and I really have to focus. I'd prefer to just do it in front of a bunch of people in a dark cloudy room.
Do you have any experiences or lessons learned that translate into your career as an artist that you'd like to pass on?
Music is the most popular thing in the world. At every gathering, it is present and has the power to move us. The same is true with art, dance, meditation. We gather around music because we like what it does to the air around us. Keep that in mind when you're creating, and make sure to be aware of the intentions you are putting into your projects.
Now, more about your music: Your sound is diverse – exploring lots of subgenres with sample-based production. How did you gather such an ear for different…styles… of music?
It's amazing how easy it is today to explore music from different times and places. My family & friends raised me on a healthy dose of music education. I remember my dad once got me a CD from each artist who started various styles of music. Funk, R&B, metal - it got me started on the idea of these people who start their own styles.

The best is to explore music from a certain era in a certain part of the world. A sombre example is South East Asian music recorded during the Vietnam War. Laos, Cambodia, Vietnam. You can feel the conflict in the music.

Music is a natural extension of our inner world. You get a relaxed vibe when you listen to to Brazilian samba music, or a sense of mystery with traditional Middle-Eastern music. If you're lucky, you can even get a soulful experience like the (shameless plug) smooth sounds of Philos Records.
Now you're about to drop your new Estilos EP on Philos… what do you think listeners might gather from it following a listen-through?
I wanted to go back to the roots a little bit. Explore influences in soul, 90's era hip-hop & vinyl scratching. I want nostalgia and bright feelings. It's a taste of more positive horizons.
How did you get involved with Philos Records and how has it notably impacted you as an artist and a person?
I remember checking out Philos right when they started a few years ago with the Ageless release. When I felt ready to release music, I checked back and saw that they were just about to release a new Derlee album. I was listening to a lot of Derlee at that point, so I hit up Jordan Wengler about an album I'd put together.

It feels great to be part of a creative collective. As each album comes out, I can see how the artists inspire each other. Philos may be relatively underground, but it still has a devoted following. The artists often use sampling to get the story across. A lot of people don't understand sampling until you explain that sampling a record - especially a dusty, forgotten 78 - has the potential to bring new life to a once forgotten song.
I saw that you did a project for an organization called PRCPTION Travel where you mixed a song with recorded with samples from classroom at a Primary School in Jamaica. Want to elaborate more on that project – how you got involved and saw the whole thing through?
I saw a post on Reddit where Jordan Urbanovich from PRCPTION Travel was looking to make an album from some samples he recorded in Jamaica. He'd been volunteering at a school in the countryside and had spent some time teaching the kids how to write & perform music. I emailed him and ended up making "Check Out Dis." A couple other artists also contributed to the project (link). Jordan cut a video on his experience in Jamaica (link).

I love what PRCPTION is doing and it feels great to contribute to a marriage of social media and humanitarianism. I just got some ill recordings from Nepal and Bulgaria. I'm so excited to premiere those songs.
After this EP, what's the next move for Style in Black?
I'd like to focus more on live shows - it's been great to get some regular shows in the area lately. As far as music goes, I have a ton planned for the near future. Let's go on a trip together and see what happens.