Few days ago we hosted an event in Sofia (Bulgaria) at a cool bar called Flip Flop (photos here). There we met Bulgarian DJ SelectorStazz and while his mix was playing in the background I thought we have to invite him over in our mix series.
Well, a day later he sent me this 60 minutes of awesomeness and I bet you guys are going to enjoy this!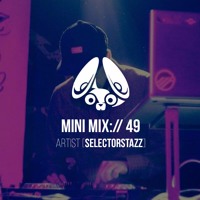 Stereofox.com
Stereofox Mini Mix://49 - Artist [SelectorStazz]
Stereofox Mini Mix://49 - Artist [SelectorStazz] - Stereofox.com
56:27
Tracklist:
1.Azure - "Umbrella" (interlude)
2. Erykah Badu - "Black Lady RMX"
3. Azure - "Elevation"
4. Amerigo Gazaway - "Mr. E"
6. Flamingosis - "Ohhh Baby"
8. Azure - "Bring the cool"
10. Blue In Green - "Da Funky Beats"
11. Azure - "Dreamweaver"
12. Green Street - "Scotch On The Rocks"
13. Juliano - "Bat"
15. JIM - "Sambasunn (Outro)"
16. Birocratic - "Next stop"
17. Clouded - "Be with you"
18. 80s Casual - "Fiesta"
19. Gofrilab - "Cafe"
20. Arteo - "You'll never know"
21. Chance The Rapper - "All night (Dubra Edit)"
Hey (stass / stazz / nasko?!)! Before anything, could you share the inspiration behind the mix? How would you describe it in a sentence?
Music is bond, music is life.
So, tell us a few words about yourself?
I grew up in a family of musicians and since childhood I've been nurtured with good music from where it stems my love and passion for music. It has been 10 years since I'm engaged in listening, auscultation and selecting music and a year since DJing. I decided it was time to spread out all these good vibes that I get from music (providin' strictly fresh vibes). Outside of music working as a bartender and I am a Economics and Business student.
How did you get into mixing and what's your preferred setup especially when you play live?
When it comes to mixing, I entered the natural way possible - from the feel of digging new music daily and share with people something that touches their senses. Тhe best recipe for me, when i play live is to simply not care and remember you are only here to make people feel good and enjoy some fresh vibes.
What's next for Selector Stazz in 2017? Do you plan to go into producing or prefer to focus on finding the right vibe for the people.
I would like to progress technically, learn new softwares, get into producing and probably get things like new controller.
Who are some of your favourite producers (I guess besides the people included in the mix)?
For sure the people in the mix. Besides them, I would mention some producers who have inspired me - Slakah the Beatchild, Gramatik, Damu The Fudgemunk, DJ Nu Mark, Soul Square, Hocus Pocus and the whole crew.
Cheers man, any last words or shoutouts?
Yeah! Enjoy yourself, good music and truly vibes!