This is something to space out to. It's so relaxing, you won't feel your muscles, I promise.
C.Tappin is one of those gems that somehow slipped away and here's our first feature of him. Better later than never, but I'll compensate with a whole EP review.
Well, here's Ashes To Ashes, his first solo LP. 4 tracks and 3 remixes.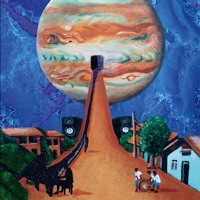 I'm loving how it kicks off in an out-of-this world and airy way with "Alexi" (which is later remixed by Reginald Omas Mamode IV for a more upbeat makeover).
"High Moon" is next with some tribal motives, hypnotic sounds and super chilled beats & some jazzy piano. The remix, thanks to Slim, is still really relaxed, but with some vocal layovers.
"Porter Stomp" is the most upbeat piece, especially Hodini's mix, and I think this is a great detour he took from the restful jazz.
And yeah, "Lifestyle" is the last original piece, which will totally make "Ashes To Ashes" unforgettable with the broken beats and Turt's input.
Well, this has been quite a ride. Can't wait for some more!