On Tuesday André Lauren Benjamin AKA Andre 3000 jolted the music world by announcing the release of his debut solo album New Blue Sun later that week... well, today - Friday the 17th.
There's no doubt of the weight of his and Big Boi's legacy, but something different's coming today. New Blue Sun is not only his first album of new music in almost 2 decades, but it was heavily advertised that it wouldn't be a rap album.
No bars, no beats, no sub-bass.
I started preparing for today by listening to Andre's interview with Rodney Carmichael on NPR and I highly recommend diving into that conversation to get an in-depth understanding of New Blue Sun.
I've been reading about the album in the past few days, but nothing would compare to the real experience. I am currently in Cambodia and I woke up at 6 AM weirdly excited to be amongst the first who get to listen to the album given most of my EU and US friends were asleep at the time. I listened to the whole album in bed with absolutely 0 distractions and it felt therapeutic and I cannot find a better way to describe New Blue Sun.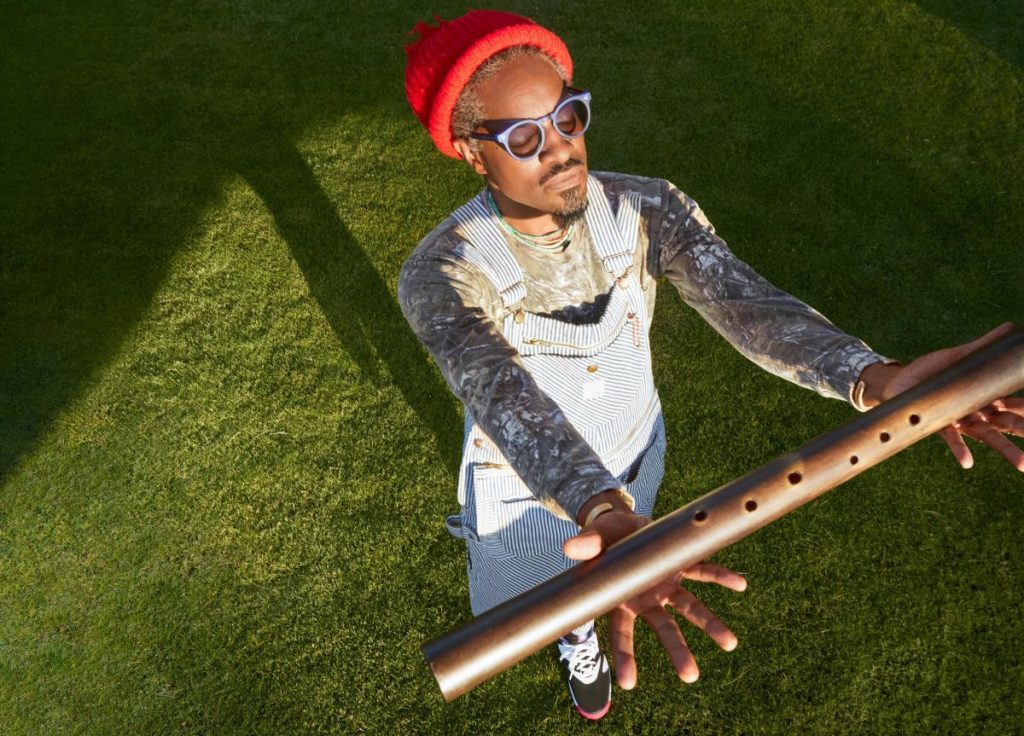 It's been a whole day of roaming around and sporadically re-listening to the album and as I write this, the gorgeous sunset over Phnom Penh creeps in the distance making it a perfect setting for the opener "I Swear, I Really Wanted To Make A "Rap" Album But This Is Literally The Way The Wind Blew Me This Time". I guess that should already tell you enough about the record.
Stay up to date.
New music and exclusive updates in your inbox weekly.
The record unfolds as an awe-inspiring 87-minute journey across 8 tracks. New Blue Sun weaves through minimalistic and experimental landscapes and it carries a scent of ambient/ tribal evoking a tribal essence. It is a trip. To me, at least.
I have to say, I have nothing, but respect for what Andre does, which is basically what he deems right for this point of his life and creative journey.
Stream New Blue Sun on Apple Music | TIDAL | Deezer
Driven by his love for John Coltrane's music and his ability to "express himself without words", Andre's love for wood instruments dates way before the Internet videos of recent years. Starting with saxophone, his journey took him on a self-taught journey through instruments like clarinet and bass clarinet eventually leading to the flute which is quite prominent on New Blue Sun. Taken from his NPR interview, Andre elaborates "And one thing I like about flutes, and wooden flutes in particular, is it's the closest to the human voice out of all the instruments. I think that's why I kind of gravitated towards it. When you're hearing a flute player or saxophonist, you're actually hearing the wind of that human. You hear it more in wood, because I think sometimes the metal may color it more. But it's something about the wood and the human voice. It's closest to the human voice. I think I was really attracted to that."
That already provides a lot of context when it comes to the essence and roots of the record, which I am sure caught a lot of people off guard.
Before I go on, there's no way I would miss talking about the titles and their length. As someone coming from the post-rock scene, I am no stranger to long titles and their name reminded me of Red Sparrows, an instrumental band notoriously famous for their lengthy titles. Andre 3000, however, is going beyond the element of obscurity. He's using them to convey a message given the record is entirely instrumental and that's the beauty of it.
We can't talk about the sonic experience without mentioning a few pivotal people responsible for the existence of New Blue Sun - percussionist Carlos Niño, keyboardist Surya Botofasina, and guitarist/multi-instrumentalist Nate Mercereau. The album is a result of almost year-long improvisations and jam sessions and certainly feels/flows like such. According to the NPR interview I mentioned above, it all started after an Alice Coltrane tribute organized by Niño where Andre brought his flute, which marked the beginning of a musical kinship and resulted in what we're listening to / submerging into today. In addition, New Blue Sun features a stellar lineup of instrumentalists, including Deantoni Parks, Diego Gaeta, Matthewdavid, V.C.R, Jesse Peterson, and Mia Doi Todd.
Once you reach the 3rd track, there's no way back. You also can ignore its title. Inspired by an ayahuasca trip Andre 3000 had, "That Night In Hawaii When I Turned Into A Panther And Started Making These Low Register Purring Tones That I Couldn't Control … Sh¥t Was Wild" certainly tells a story alongside the music.
Whether you enjoy music of an experimental nature or not, spending an hour and a half with something of New Blue Sun's nature is certainly going to add an element of differentness to your day. Whether you'll repeat the experience after that is up to you, but I certainly will.
Find more on this in our Discord