Heartless Breakers is a band I am anticipating new music from quite eagerly. They released a song almost a month ago and we did a post for it right here.
Now the band is back with a new song called "Daily Restraint" and some info about their future plans. As it turns out they will be releasing an EP named Prescriptions on July 23 and I am so stoked to hear it.
Heartless Breakers is a band that features the ex-Daytrader guitarist Matt Mascarenas so I'm not surprised at all that I like their music that much. Heartless Breakers have managed to find a style of their own, which combines pop punk, post hardcore and alternative perfectly.
HEARTLESS BREAKERS - Prescriptions
Tracklist:
1. Daily Restraint 2. Bitter Melodies 3. Morals & Motive 4. Monologue
Release Date - July 23rd, 2013
The band's latest song "Daily Restraint" comes with a video as well, it was posted exclusively for AbsolutePunk.net. Check it out!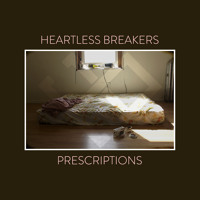 heartlessbreakers
Daily Restraint
Daily Restraint - heartlessbreakers
03:40