After being featured by 4 different people here on the Fox, it's safe to say - Alexander Lewis is definitely on our radar.
His signature production sound AND the fact that he's just beyond Godlike when it comes to playing trombone made him one of the most interesting people to follow this year. Alexander just dropped a brilliant flip of Kaaris x Mr. Carmack's - "Chargé" which you can stream below. Juts in time for our interview.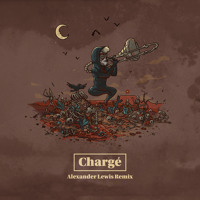 Alexander Lewis
Kaaris - Chargé (Alexander Lewis Trombone Flip)
Kaaris - Chargé (Alexander Lewis Trombone Flip) - Alexander Lewis
03:05
Hey Alex - thanks for the interview! What's the one most random fact about you most people probably don't know?
I have horrible stage fright that I have to overcome every single time I perform. I don't know why but it never gets easier for me.
You just returned from playing at Coachella. How insane was the whole experience and what's the craziest thing that happened to you over there?
I think the craziest thing was seeing Porter Robinson and Madeon live. Super inspiring!
People like you, Brasstracks, Masego and a few others are definitely adding a new cool edge to the brass section instruments. You are probably one of the few trombone players who can make a crowd jump and just destroy stuff (i.e. that Coachella video from FB). I feel you have completely changed the perspective of a trombone player and in the next few years we'll see a rise in the kids playing it. Thoughts on this?
With funding being dramatically decreased in public schools for art I hope that I could inspire kids to seek out playing/learning live instruments on their own. In most cases though, if they're not exposed to it through music education, chances are they won't even know what a trombone even looks like. I'm glad that I can bring something to "popular" music that most kids wouldn't necessarily be exposed to.
How did you get into production? I know you've been playing trombone for quite some time now, when/how moving towards electronic music felt... natural?
I remember senior year of college I started experimenting with effects pedals on trombone etc. At this time I felt a huge divide in terms of what conservatory expected me to sound like vs. what I wanted to sound like as a trombonist. This feeling of "not fitting in" initially drove me to create my own lane.
Your latest sound is a flip of Kaaris - "Charge". Why did you choose the track?
I actually never intended to release this track. I just thought it would be a cool performance track. After a bunch of videos of me playing it out started circulating, people started asking me to release it, so I decided it was time.
Favourite collaboration so far and why?
I just finished a cover of All the Lights with Brasstracks. It was a lot of fun.
What's the hardest thing you had to sacrifice in the name of music?
Sanity. LOL I'm sure a lot of musicians/creatives can relate to this.
How has your life changed since the photo below was taken?
Well I'm pretty sure I was performing for 15 people when this photo was taken as opposed to performing at Coachella for thousands. That's pretty cool come up.
What's your proudest moment when it comes to music?
Some random B&L show (huge shoutout B&L) when I played my Pay for What flip the very first time and the crowd just lost their shit. I realized being a band geek my whole life paid off.
Who have been the most supportive people when it comes to your music journey so far? Both labels/collectives and individuals in your daily life?
Brownies and Lemonade and Trap Nation have really shown me a lot of love. Huge shout out to them! 

My sister, Yogi, Ivan (Brasstracks) and my mgmt all help me a lot and deal with my bullshit on a daily basis. They're the real heroes.
What's on your playlist lately? Any artists we should be checking right now?
I'm always rotating my playlist but this has been my top few as of late...

Kendrick Lamar - Damn.

Cashmere Cat - 9

Childish Gambino

Travis Scott

Sinjin Hawke (new find... fucking incredible)

Lauryn Hill - MTV unplugged (revisiting)

Nick Hakim - Where Will We Go Pt 1 and 2 (must check this out)
Cheers Alex, thanks for the interview! Any last words of wisdom?
As a creative try and create happiness for yourself. You don't have to be content with where you're at but just try to be happy with the process. Thank you!
Stay up to date with those bassy kicks on Alexander Lewis' arstist page. Hope you guys enjoyed the interview. Cheers!