We're been trying to catch The Ferret for some time now. Well, we finally caught him for a moment and the result is mix unlike any we've hosted on Stereofox. The independent artist is in it for the love by dedicating himself to scouring for funky samples over driving hip hop beats and buzzing basslines in his free time. His mix displays his impeccable disc jockey skills in a storm of break beats and all too familiar acapellas.
We had a chance to ask the Funk Ferret himself some questions on his part-time venture outside of his job as a 3D designer. While he remains low key, he's well recognized in the world of funky electronic music by many. We had the chance to explore themes on his background, musicianship, and his home country. Press play on the Funk Ferret's Stereofox mix while you read our exclusive interview him!
Tracklist:
Fat Joe Feat. Nelly - Get It Poppin (Roast Beatz Philly Remix)
Illegal Cookin - People everyday (Illegal Beat Edit)
Illegal Cookin - OPP Banger (Featurecast Re-Beef)
Missy Elliott vs Will Smith - Wild Wild Work (TheFunkyFr34K Mash-Up)
Illegal Cookin - Picketlines
Luther Vandross - Never Too Much (Ferret Party Break Edit)
Pras Feat. Mya & ODB - Ghetto Supastar (Funk Moguls Re-Fix)
Stevie Wonder - I Wish (Qdup Remix)
Nelly vs BeeGees - Stayin Hot (Lobsterdust Edit)
Hot Chocolate - Every 1's A Winner (Funk Ferret Edit)
Featurecast - Ooooh!
Featurecast - Woah!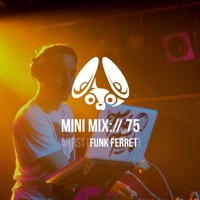 Stereofox.com
Stereofox Mini Mix://75 - Artist [Funk Ferret]
Stereofox Mini Mix://75 - Artist [Funk Ferret] - Stereofox.com
31:37
Hey Glenn, great to have you on an interview! How's your year been so far?
Thanks Mike! Stoked we're finally managing to put this together, I think it's been about 6 months since we've first been in touch! The year has been crazy busy as usual, juggling my music life and job life. It's a shame those two aren't in the same industry, as I feel I'd be able to tackle them both a bit easier that way.
I read that you've been producing for over a decade. How did you get into it?
Well if you can really count the very first time I dabbled in audio production, that was way back in 99, funnily enough using a PS1 and a fun application called Music 2000. It was a horrible mess of cheesy rave / jungle samples, but had the bare necessities any beginner needed to dabble in their first home studio environment. I think the PS1 had 2mb of RAM, so not only was it difficult to utilise the various bad sounding low bitrate samples, you needed to be extremely efficient with how those samples were used, as you would very quickly eat though all the available memory. Fun times for sure. It definitely ignited my passion for audio production. Something that has stuck with me for nearly 20 years.
Your style seems mash some well-known samples overs very hype-produced grooves. How do you select samples and what do you look for?
The main basis a lot of my music comes from is Funk, Soul and Disco combined with Hip Hop and a lick of modern electronic synth and bass grooves. The biggest pull for me is my eternal love for Funk! It has everything that I love about music. That underlying rhythmic groove you just can't help but tap your feet to. Those drums, live and loud up front with that stomping 4/4 groove you can't help but tap your toes to. Those syncopated basslines and guitar licks that just roll everything together into the package of Funk! If all these things fall into place, then this is what I'm sampling, using for inspiration, or trying to create from scratch.
Your home country of New Zealand seems to embody a funky energy with some well-known glitch-hop/funk producers. What makes NZ funky?
That's actually a hard question to answer! I think we share some of that love with Australia too. We're so small and far away down here, I think we're really lucky to have such a large Glitch Hop, Funk and Bass community. We do have a very relaxed attitude, which also goes hand in hand to why New Zealander's also connect strongly with Dub and Reggae so well. Maybe that's also where the love of funk comes from. Live, groovy music just fits with us so well. I think that love combines naturally with producers in the electronic and bass music scene, smashed together we all know that at Funky Breaks and Glitch Hop.
You have a monthly show on Base FM where you throw down an eclectic mix of bangin' tunes. Tell us more about this project.
Base FM is New Zealand's biggest independent radio station, comprised of almost 100 DJs who all share a common passion for anything outside of the normal top 40 trash you hear all day, every day on other radio stations. The whole place is run by the amazing German raised Jasmin Ziedan. I share 'The Jukebox' show bi-weekly with a long time friend Benn Morrison. My side of the show runs every second Saturday 12-2pm and can range from laid back Trip Hop grooves to full blown party bumpin' Funk & Bass. Tune in via the Base FM app, from any country in the world!
What other things are you into when you're not immersed in music?
My other major passion in life would be design / visual effects. For my day job I'm a 3D artist at a company called Blockhead. We make visual effects and animation for film and TV. I'm lucky to work in an industry that I also have such a huge passion for. Combining day work, DJing, audio production and personal 3D VFX projects takes up pretty much every waking hour (and often more). It's often difficult to juggle all of that, and I think that's why my audio production has slowed down in the past years. But like anything you love, you'll never stop doing it. It's my lifeblood!
You've shared the stage with producers like old-schooler breaks producer Krafty Kuts to ghetto funk family members Slynk and Stickybuds. How would you describe this musical movement?
This electronic infused, glitched up, bass heavy funk is just pure fun! It's not trying to show off in any way, it doesn't need to. It's not trying to copy or emulate another sound, it IS it's own sound. It's purely taking inspiration from all the fun little things from many different genres over many years and selectively crafting them into new creative and exciting ways to get the party jumping. I've seen a lot of acts and been to many gigs in my lifetime, but nothing has me more excited than to hear that glitched up funky breaks!
How do you craft a song? Walk us through the process and thinking that goes into it
My audio production typically starts with sifting through hundreds of 60's 70's and 80's Funk, Soul and Disco tracks to sample something that sparks my interest. That could be an entire song, an intro, a bassline, or just the idea of a chord progression. From there I'll square up the live performance timing, rearrange the parts I'm liking into an intro / chorus / bridge / layout. From there I'll start layering drums, bassline and a suitable Hip Hop acapella. Finishing up with way too many hours spent mastering the fine balance of clashing tones, bass, kick drums and vocals until I feel It's finally the way I think it should sound. Music is never truly finished, it's either abandoned or somewhere along the way you just have to take a step back and say I'm finished. I can't say that I like everything I've worked on, but most of it comes to a point that I'm happy with. That's likely another reason my audio production has slowed down over the years, as my taste for quality increases, I get more fierce about the standard of music I'd like to release.
What's coming up for Funk Ferret?
I've made a tonne of sampled edits, reworks and remixes over the years, with little time spent on complete original music. I'd like to work on more 100% original music as it forces me to think deeper into my audio production, from keys, to chords, to progressions, all the way through to the final product. I feel this is the best way to release all of my creative potential, although with so much sampled material in my past, it's hard to live up to the classics we all love! It's all just time and effort though really. Time is something I don't have much of. But who really needs sleep?!
Any last funky thoughts, words of wisdom, life anecdotes or shout-outs? Now's your chance
Do what you love, love what you do!