This week, we're excited to get a take on a type of music that we advocate here at Stereofox: the chill, the hip hop, the soul.  On the minimix is Louisiana-based Josh Reid who goes by the name GYVUS who was cool enough to lend us some insights on his project in an interview (see below).
With a background in sample-based production, Josh is finding success with releases on Chillhop Records of his creative angles on ambient, melody-rich hip-hop beats. If you're curious to find out the tracklist, drop by our mini mix post.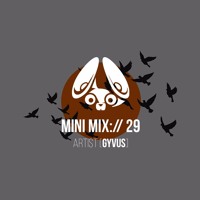 Stereofox.com
Stereofox Mini Mix://29 - Artist [GYVUS]
Stereofox Mini Mix://29 - Artist [GYVUS] - Stereofox.com
29:36
Hey Josh, thanks for joining on the minimix series. To start, how did the GYVUS project get started?
I had been making simple beats off and on for years with various free programs, but started to get serious about learning to produce around 2013 or so. I figured out how to use Ableton Live around that period which was key to creating the sound that I wanted. GYVUS started shortly after that.
What are the provokers of thought and inspiration in your life that translate into the chilled out beats and sounds that you produce?
I would say memories for sure. Revisting certain periods in my life often have some inspiration or feeling that I can use as a starting point for a track or setting a mood. Of course listening to other artists is a big inspiration.
What are some unique challenges inside of producing music that you wouldn't normally discover in... the real world?
Writer's block is a thing that happens with me from time to time. Usually at work the goals are relatively obvious and apparent, but with producing the possibilities are quite infinite and you have to decide what the goal is. That can be challenging when you want try everything.
Conversely, what are some of the rewards inside of it that keep you enthused by it?
Finishing a track or stumbling onto a great idea is very rewarding. Of course the positive feedback from listeners is rewarding as well.
You've had a number of releases on Chillhop Records as well as self-releases. What's next for you?
I'm currently working on my second EP with Chillhop coming out later this year, an hopefully more collaborations.
Any last thoughts or wisdom you'd like to lend?
Just a thank you to everyone who has listened and supported me with my music and shout-out to all of the artists and everyone over at Chillhop!
I hope you enjoyed our GYVUS interview. Keep up with him, so you know what's up next on Soundcloud | Facebook | Twitter | Bandcamp. Feel free to download this mix for free here.