There's a lot to discover in a new generation of music production once pioneered by the likes of Aphex Twin, Kraftwerk, and The Prodigy. Among the players enriching the culture of modern bass music is producer and label owner John Burcham AKA Psymbionic. In his new sci-fi inspired LP Carbon Based Lifeform, he carries the torch into a new frontier of sonic imagery throwing us into his psyber-punk playground. The album is a soundtrack of a co-illustrated comic book where we discover mutualistic symbiosis between genres breeding unconventional forms from neuro hip hop to metallic bass to ambient psychedelia.
As the owner of label Gravitas Recordings, an Austin-based independent record label, he ensures the culture of experimental music prospers supporting rising producer, like CloZee, to up and comers Au5 and Cloudchord. John's crossed a few career thresholds in addition to this breakthrough project and we had the pleasure to dive deeper into his creative process, production techniques, the album conceptualization and more in the interview below.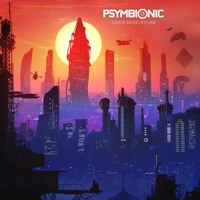 Psymbionic
Psymbionic - Carbon Based Lifeform
Carbon Based Lifeform LP (Album Mix) - Psymbionic
36:59
Psymbionic - Horizon [Intro] - Gravitas Music
02:33
Psymbionic - City Zero - Gravitas Music
03:13
Psymbionic - Bionic Chronic - Psymbionic
05:10
Psymbionic - Hypnotoad - Psymbionic
03:59
Psymbionic - Carbon Based Lifeform Ft. Gabriel Guardian - Gravitas Music
04:27
Psymbionic - Edge Of The Earth - Psymbionic
04:03
Psymbionic - Cloudchaser - Gravitas Music
04:09
Psymbionic & Thelem - Dimensions - Psymbionic
03:45
Psymbionic & ProbCause - Homesick - Psymbionic
03:49
Psymbionic - The Now Unknown - Gravitas Music
02:04
Psymbionic - Bionic Chronic (Lucchii Remix) - Lucchii
03:00
Psymbionic - Carbon Based Lifeform Ft. Gabriel Guardian (Stylust Remix) - Stylust
03:33
This album's a long time in the making where you studied musical arrangement in the meantime. What learning experiences stand out to you that were gathered from the making of Carbon Based Lifeform?
One of my biggest influences for the album was listening to how movie soundtracks are written, specifically sci-fi movies. It feels like such a different mindset to crafting music than the traditional EDM intro>buildup>drop>breakdown arrangement. I've also been studying soul and other more approachable flavors of jazz - this has lead to a lot of experimentation for me in relation to things like borrowing chords from other scales in my progressions.
This album is a soundtrack to a comic book that you wrote and illustrated along with visual artist Guzumaki. How was the creative process for the comic book? Was there anything that surprised you about it?
It's definitely been a huge learning experience from the beginning and it isn't quite done just yet. Guzumaki is a tattoo artist by trade and we have spent a good amount of time working together before on an arm tattoo for me, so that was an excellent foundation for us to start out on a project like this. Neither of us had written or illustrated a project of this magnitude before, and we knew we were in for some real learning experiences throughout the process. Thankfully, we both share a strong attention to detail and desire to push ourselves artistically. I've really learned how different writing a story can be with such a dependence on illustration rather than words, and even more how it feels like you use different parts of your brain when conceptualizing a narrative instead of a song - that's probably the biggest surprise so far.
The accompanying comic is based around a technologically advanced society that has lost all knowledge of the technology that powers their lives. Tell me more about this storyline and how you crafted it.
The story line has slowly evolved over the last year or so, although the vast majority of the work has gone into the project since November. I started a theme in my tour and album artwork of landscapes and structures that feel futuristic yet have fallen into ruin and decay. I really wanted to play with the ideas of how a civilization could kind of "devolve" and lose access to all this technological achievement that has been gained through the generations. Over time, I knew that my album would be titled "Carbon Based Lifeform" which eventually became a basis for the story: humans have evolved to a point where they are so synthetic that they're more sillicate than carbon. But in the age of the comic, humans have lost all knowledge and understanding of the technology that helped them evolved and powered their everyday lives. Their dependence on technology became a downfall when it wasn't around to run the world for them anymore. The goal is to release a new issue of the comic for every album/EP that I do and have the greater story arc unfold over 3-5 issues.
This large creative venture sounds daunting, but rewarding. Was there any personal wisdom that you gathered from going through it that you'd like to share?
This entire project from the album songwriting to the comic to the marketing has all been a lesson in patience. I often get restless when it comes to getting my ideas out to the world or seeing hard work pay off, but it feels good to have a pretty large vision and watch all the pieces unfold one by one. I think this is a great lesson for the music business in general: you will sometimes see people skyrocket to fame within their first year of releasing music while other, incredibly talented people may spend their entire career in relative obscurity. Sometimes, it takes a while for people to catch on to what you're doing, and it takes a certain kind of person to have the patience and persistence to stick it out in the hard parts in order to reap the rewards when things are going well.
Being a producer who draws from many sources to craft a genre-less production, what kind of elements find their way into your music?
I'm not quite sure my music would be called "genre-less", but I'm definitely not a fan of the neat little boxes that most people use to describe popular music. One of my favorite ways to approach songwriting is trying to put two types of sounds together that may not normally be associated with one another. I enjoy challenging accepted musical aesthetics and themes, and because of this I feel my music is hard to classify into clearly defined genres.
In parts of the album, we hear instrumentation and electronic production working in tandem. How is the production comprised throughout this album? Any techniques you used that you'd like to expand on?
Whereas so many of my friends and fellow producers tend to write the "drop" section of a song first (especially in the bass music world), I often write a more melodic section that often becomes the intro to a song later. In the past, I think this usually made my music a little off kilter because it lacked cohesion, but I finally feel like I'm in a place where I can weave various threads together much easier. Part of this comes with the discipline and objectivity to know when to delete a section and start over because it doesn't work, instead of trying to force parts of a song just because you've put time into them. That has been a huge lesson for me.
You have the 2019 Carbon Based Lifeform tour kicking off. What are your thoughts going into it and what can people potentially expect from the shows?
I've been on the road for a couple weeks now, and it always feels good to get back into that groove after being a hermit writing music for a long while. Thelem and Frequent are joining me on the road - both of my tour mates are epic producers and genuinely awesome humans which makes touring so much better. I think I'd ask a new fan who's never seen me play to come into the show with an open mind - I love looking at DJ sets like an adventure. It won't just be banger after banger but also I try not to steer off too deeply into extra experimental songs for extended periods. There is a wax and wane throughout my sets and I think a lot of people who are sick of monotonous sets tend to respond well to that.
What boggles you more than anything about life?
One of my favorite things to study is the human brain and all the systems that make us as humans tick. Over the past years I've been digging deep into nootropics and other supplements as a way of "biohacking" ourselves, it's insanely interesting to me. Our bodies are this immensely intricate and robust correlation of interconnecting processes, and it's kind of amazing that we function at all given the junk that most of us put into ourselves (myself included). I've been exploring various supplements to increase creativity lately, and definitely used a lot these concoctions while writing the album.
Besides tour and releasing this album, what's on Psymbionic's roadmap for the next year(s)?
One big thing I'm focusing on right now is remixes of the album songs as well as a remix contest - we're going to be partnering with some really cool audio tech companies for prizes on the contest. Beyond that, I'm hoping to write and release an EP before the end of the year that focuses a bit more on dancefloor music as a counterpoint to the conceptual factor in the album. Going into next year, I'm planning on curating a compilation album on Gravitas with a large group of friends and colleagues in the bass music world.
Any shout-outs you'd like to give?
I'd love to shout out my collaborators on the album: ProbCause (the lyrical flow killer), Thelem (the deep space bass don), and Gabriel Guardian (the shreddage guitar god). Also a big shout out to my team at Gravitas Recordings and Pivotal Agency, definitely could not do everything I do without them.