Just close your eyes and dream away to the 60 - and 70's rock, listening to an energetic band with a groove you cannot stand still to. You will be filled with the feeling that clearly we can move mountains if we help each other. The Brimstone Days are a band from Malmö, Sweden with a target set on becoming a great live act, a goal which they have already reached. I had the chance to interview Johannes (drums), Håkan (guitar/vocals) and Hampe (bass/backing vocals) and learn more about their band.
Before you continue reading please listen to a song or two by The Brimstone Days and watch this funny and creative one-shot video clip of theirs.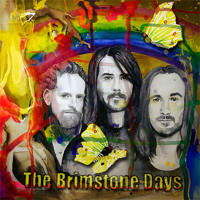 Transubstans Records
THE BRIMSTONE DAYS Confession
THE BRIMSTONE DAYS Confession - Transubstans Records
03:42
Alex : We are currently in the first month of 2013 and I have to ask you guys about your New Year's resolutions. What is to stay the same and what is to be changed, improved (be that personal or band oriented)?
The Bbdays : Well, the band have big plans for 2013. We feel that this year is going to be a good year in the Brimstone world. Besides making a lot of new tunes and touring loads, we will try to be a bit more organized. How this will go we will see. We exist to play music but there are shit loads of stuff around it that have to work on as well, we have come to this conclusion.
Alex : Tell us more about the upcoming tour in Spain.
The Bdays : We are really looking forward to it. We have played in Spain before and it was awesome. Right now we are rehearsing for the tour and we are going to play a lot of songs from the new album. We will also play an acoustic gig which will be a challenge.
 Alex : If you can choose now what would be the places you'd absolutely love to tour?
The Bdays : The countries we have been to were all cool places. We are probably heading more for Eastern Europe; also it would be cool to play in both North and South America.
 Alex : Best concert you have ever had so far?
The Bdays : Oh, that's a tough one. We always have plenty of fun but maybe that would be Rock Sound – Barcelona, Chwila – Warszawa or White Trash – Berlin.
Alex : As a rock band what is your experience when it comes to alcohol consumption and live performance? Any tips and tricks for the newly formed bands.
The Bdays : Every band have different limits. We play shit drunk, others have their glory moments when they have been blessed by the holy water.
Alex : What are your plans for 2013?  ( in terms of touring, album recording and things related to The Brimstone days).
The Bdays : We will try to do a lot during 2013. We will shoot 2 music videos and record more music. We are up for a big tour in September-October and some festivals in the summer. To Play music!
Alex : All your video clips are one take-one camera style which is really intriguing and difficult to execute! Why did you decide to stick to this strategy and do you rehearse a lot before that one camera shot? 
The Bdays : We love making those videos where it's more about the idea rather than how much money the video clip will cost. We like to keep it simple and awesome. :) We will soon shoot a new one and in this one there is going to be more "actors" involved. We will have to rehearse a lot. But yeah, not a single video of ours has ever been done on first try so to say.
Alex : What is the hardest part being a part-time musician?
The Bdays : The dreams about the road trips when we are not touring.
Alex : What is the one thing you enjoy most when it comes to playing in a band? Is it the touring, the recording of new songs, the fans, the process of writing music or?
The Bdays : For all of us everything is about the live show, to be on stage, playing music for others. Everything we do is to make that possible. We are not a recording band, we will probably never be, we are a live band, nothing more and nothing less.
 Alex : Finish the sentences ...
The Brimstone days is... the one thing that will turn your day around!
Johannes hates it when... I make him play a certain drumbeat, the same drumbeat again and again. I love that freaking drumbeat, I wanna make love with it!
 I have seen Håkan happiest when... he could stop singing the current song so that the audience would sing instead.
I had my dreads for...   6  years and when I cut them , people's reaction was …. who are you?