Roughly 10 years ago, a Canadian duo by the name of Memoryhouse released "To the Lighthouse" - a hazy Alt/Indie track which has the power to engulf listeners in a world of atmospheric textures. And months later, a young producer based in Florida remixed this utterly dreamy tune into something we could dance to whilst maintaining the track's ambient essence. That was my first ever introduction to the sounds of MillionYoung.
In his formative years, stylistically speaking MillionYoung (aka Mike Diaz) was correlated with acts such as Neon Indian, Blackbird Blackbird and Toro y Moi by virtue of the "Summer of Chillwave". For those in the dark as to what I'm talking about, Chillwave is/was a genre of music that rose to prominence in the late 2000's which invokes feelings of... You know, this has been covered in great depth a range of times. The track below is arguably the best introduction to the genre.
It's now 2019 and if you heard Diaz's latest releases compared to his earlier ones, you'd think it's two entirely different artists. Although the one thing that may doubt that thought is the feel of nostalgia which consistently lingers within the works of MillionYoung. His 2011 LP titled "Replicants" put him on the map and even long after Chillwave's 'heyday', his name rings a bell especially if we're talking Indie Electronica. In this gripping interview, Mike shares with us his thoughts about nostalgia and music, the challenges he faced while starting out and so much more.
Back in 2010, you were associated with a number of artists under the Chillwave banner. You've remained a sought-after artist and you've grown even after Chillwave's moment in the sun. What motivates you to wake up every day to continually take the Millionyoung project to new heights?
Wow it's pretty wild to think I've been doing this for a decade now! I'm truly grateful to have been associated with a lot of different artists I enjoy over the years. It's humbling to see my music has resonated with a lot of amazing fans who continue to come out to shows, share my music, and vibe with what I'm doing. Those people are the ones who keep me going.
When you were young and announced to your family that you're pursuing music, were they supportive of your decision or was there a conflict of interest?
Hahaha, there were a few conversations about it. At the very beginning, I was 20, and at that age, I probably would have called it a conflict of interest with my parents. In retrospect though, I see and appreciate that our interests were aligned, in that we both wanted what was best for me, we just had differing opinions of what that meant. They've come to a bunch of shows, and have been my favorite fans for years. They're amazing people who I love endlessly.
During the early stages of your music career, what were some of the biggest challenges you had to overcome and what were some of the lessons you learned in the process?
A big lesson was learning not to close me off from working in all aspects of music. Over the past decade, I've worked on not just DJing, remixing, and producing for other artists, but I've also run sound and projections for shows and created album art and flyers for different bands. If something is your main thing, like writing and recording is for me, make that your main thing for sure, but don't be afraid to check out other areas. It helps to make connections with new people, and you might find something else you enjoy a lot in the realm of music.
So there is clearly an 80s influence on your sound. From the shimmering synthesizers to even the drum programming. Is this influence coming from the music you heard during childhood or more so a fascination with that era in general?
I think it is definitely a combination of the two. My absolute favorite eras for music are the 70s, 80s, and 90s, but the 80s do fall right in the middle of that time frame, so I guess that comes out the most? My parents were always playing stuff like Prince or Miami Sound Machine around the house, so that is definitely foundational in my taste. It's also interesting to me how the invention of MIDI, and the shrinking of synthesizers and drum machines through the 80s, gave a peak into a future where "bedroom" producers could have so much potential with minimal equipment.
What would you say to those that think that you rely heavily on nostalgia to formulate your sound?
It's funny because I've been thinking about this a lot lately, and what nostalgia means to me, and to different people. It's a term whose meaning has changed a lot over the years. There seems to be this general vibe that nostalgia is just about dwelling on the past at the expense of the present, and these days companies try selling us an endless stream of reboots, and sequels, but to me that stems from a very shallow understanding of the concept.
When I think of nostalgia in my music, to me it's something much more personal. It's the sound of growing pains. It's the sound of a mundane memory that becomes something special over time; like being a bored kid at home on a rainy day. Nostalgia is when you look back on a memory and get that bittersweet reminder that the good times won't always last, but neither will the bad times, so we should make the best of every moment. I hope when people hear my music, that's the type of nostalgia they find.
I also don't think a piece of music has to call back to a certain era to achieve that feeling. I gravitate toward 80s sound palettes, but that's more so an aesthetic choice that I don't feel is entirely necessary for achieving a "nostalgic" sound. For example, two of my favorite examples of nostalgia-inducing music are Jon Brion's "Phone Call" (2004), and Erik Satie's "Gymnopedia No. 1" (1888). Neither of these is even from the "80s". Well, Erik Satie is from the 1880s.
"Reflect" is by far one of my favorite tracks of 2019 and I was over the moon when I discovered it! Please tell us more about the creative process of "Reflect" and the headspace you were in whilst writing the lyrics.
Thanks so much, it means the world to me that the song clicked with you! I
I like to make loops of instrumentals I'm working on, and improvise melodies and lyrics to them while I'm driving. I sing in the car all the time, so one day I thought "why not try to come up with something too." For "Reflect" I was literally driving to my girlfriend's house when the idea came to me, hence the opening lyrics.
On the subject of 2019, how's the year been like for you? What kind of life changes has occurred that you're ecstatic about and can't wait to take into the new year? Oh and I'm talking to Mike Diaz for this one.
This year was a lot more about collaborating for me. I've been working with some really great artists like NICOLAAS, and these guys Bliss Nova. I also got an opportunity to work with one of my favorite labels, Kistune, on a new single called "Respiro". Aside from that, I started playing in a new band called Airhockey with some friends.
Man from what I see on your socials it seems as if you're traveling on a regular basis. How do you take care of yourself to ensure you're in a good space physically and mentally?
It has been a really busy year, but there are a few things I do to keep going. I cut soda down to like one every couple of months, which helped a lot with my sleep, and overall physical health. For mental health, I've been using social media a lot less.
I read Ian Cohen's piece about you and the whole thing came across as a bit off a back-handed compliment. The end was definitely an insult. In your opinion, what sort of role do you think music publications play in the industry? And would you consider them very influential to your streaming numbers and/or the number of people discovering your music?
Well first of all, in a world where everyone's opinion is so amplified, I think it has never been truer than if you live for praise, you'll die from criticism. I also don't think negative press necessarily means a negative impact on streams, it's too often the opposite case.
What I do find frustrating is this system we have where an artist can spend hundreds or thousands of hours on a piece of work, just to have it criticized by someone who may be listened once, or the work just didn't happen to resonate with them. Then the problem gets compounded when these types of reviewers and their readers take that opinion as to if it's fact when it's really just one person's opinion. This has been an issue for decades though, and I'm glad now we at least have such easy access to music, that people can make up their minds for themselves.
What inspired the recent formation of 'Airhockey' and what do you do in the band?
Airhockey was started a while back by my good friends Sebastian Hidalgo, who has been part of the Millionyoung live show for a couple of years now, and his girlfriend Mel Sarria. The two of them had a great batch of songs recorded and were looking to set up a live band to compliment Sebastian on vocals/guitar, and Mel on bass. Earlier this year they asked if I wanted to play guitar and synths, and I jumped at the opportunity. I've started contributing to some of the writing on an EP which will be out early next year, but I play more of a George role to their John & Paul right now.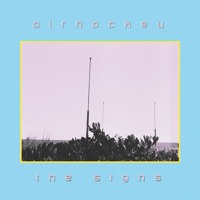 the signs - airhockey
03:50
An artist/band you would have a D.M.C (Deep Meaningful Conversion) with?
Andrew WK
An artist/band you'd love to party with?
Post Malone
Artist/band you would like to be within the studio for a week?
Kacey Musgraves