Imagine working for weeks, months or even years on a project only to have it swept away with one misplaced step. That's what happened to Jinja Safari co-frontman Pepa Knight.
Originally written and recorded between 2011 and 2013 on his travels through India, the recordings were unfortunately deleted from his laptop last October. However, the Aussie singer/songwriter wasn't going to let this tragedy stop his music from being heard. After re-recording everything from his solo project, Knight is now kicking things off with lead single "Rahh!" and the announcement of his debut album due out later this year. He describes the project:
I recorded most of the music for my solo project in India on my laptop. Some songs were written about a particular place I traveled to and I used sounds that were recorded from the same place. 'Rahh!' was written on top of an old fort in Rajasthan, waiting for the sun to rise with a bunch of pilgrims and a Sadhu man. The sample at the end of the track is the Sadhu chanting and the drumbeat was inspired by a tabla player I met from the same town.
With hypnotic percussion and tropical instrumentation, Knight's joyous mixture of worldy-inspired dream-pop arrives just in time to warm you up for summer.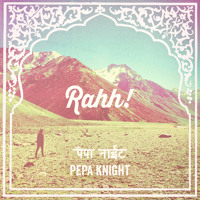 Rahh! - PEPA KNIGHT
03:45