I have featured Arms and Sleepers before and even though I thoroughly enjoyed their track "Swim Team", I have completely missed their album release.
Took me a while to catch up with it, and as much as I hate writing album reviews, I thought I'd jot something down, because this is really good.
To start off, this is their 17th album (it still amazes me how many releases the guys have) and this album is a chillwave explosion in my ears. So unless you are digging electronic music like this, this release is probably not something exciting, even though I wouldn't make bold statements, give it a try in any case. If you happen to not know what chillwave sounds like, Swim Team would be a good place to start.
The record is a blend of loads of styles: from trip hop to electro pop, from hip hop to experimental electronica, and Arms and Sleepers are skillfully combining all of that into their own unique sound. There is a lot of 90's and R&B inspired beats (which make me think of J Dilla, I've been listening to his "Dillanthology" series lately), especially in tracks like "Forever Only" and "Mingus Mapps".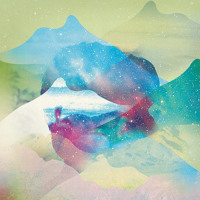 Arms and Sleepers
Swim Team
Unbound - Arms and Sleepers
03:28
Swim Team - Arms and Sleepers
03:44
Hummingbird - Arms and Sleepers
03:38
Tiger Tempo - Arms and Sleepers
03:36
Mingus Mapps - Arms and Sleepers
02:48
Forever Only - Arms and Sleepers
01:29
Nobody More Than You - Arms and Sleepers
03:33
Ghost Loop - Arms and Sleepers
03:00
Hurry Slowly - Arms and Sleepers
03:36
Better Living Thru Chemistry - Arms and Sleepers
02:36
Tetro - Arms and Sleepers
03:12
"Unbound" serves as a great smooth opener, which already shows the complexity of the record you are about to hear with its layers of sounds and distorted vocals.
Standout tracks are "Nobody More Than You", "Tiger Tempo" and, of course, "Swim Team". All of them are complex, layered and packed with different influences and genre combinations.
One of the cleverest things on this album is the guys' play with the vocals: they are echoing, sampled in ton of different ways, and sometimes you barely notice that there is actually some voice in the background because it complements the music perfectly and creates one solid soundscape.
In general, the record flows and you don't even notice the change of tracks, even though all of them are so different. It just all comes together in one beautiful lush synthesized melody and serves as a whole.
I just wish that the record would have been longer, so I don't have to replay it over and over again.