Less than a decade ago, Soundcloud was born providing producers a platform to collaborate, exchange, and remix their music. Coming up on Soundclouds 10th anniversary this October, some of those artists have stepped into the live stage with ensembles, 10-piece bands, and even full-blown orchestras having performed at world-renowned venues. Hip-hop based electronic music is a movement and it has exploded the past years undergoing cultural transformation winning new artists, fans, and styles by the day.
One musician in this movement we'd like to highlight is Laster from Southern France. His distinct sound and style shows that he plays this one by his own rules. A young, yet well-informed musician, he chisels a sonic spirit out of lustrous guitar licks and rich rhythmical space chords to walking bass lines showing a diverse, ever-evolving character. He stands out for his intricately-layered, well-balanced productions, which harness harmonic subtleties driving an impact with his watermark solos. And despite remaining low-key, Laster's gained the respect of the internet amassing over 1 million plays without even being on Spotify.
His third installment of the Beat Tape format completes the triangle. While this last beat tape showcases his most complex work to date, he remains poised to take it further. His plans for the future are many, including integrating more live, organic compositions, while relying less on sampling for his next release. A versatile producer in his own right, he draws from many inspiration— notably the French Touch sound. In his collaborative project Selecta alongside fellow producer Walass, you'll hear a convergence of musical styles in the debut EP Vice out now via Chill Masters.
And now for the fun part: Beat Tape Vol. III and our exclusive interview with the artist himself. Give the stream a listen while you read our conversation with Laster. Get your hands on these tracks through the download link at the top, where you can purchase these tracks.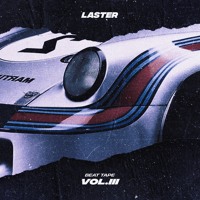 Someone Whisper - Laster
04:26
Vertigo Effect - Laster
02:38
Hey Simon! It's great to have you for an interview. First, who Laster is and how did he get into music?
Hey Mike! Thanks for covering this release, it's always a pleasure talking music with you.

I've been making music since the age of 10, but it's only in high school that I really started composing / producing under the name Laster. Back then, I was entering my hip hop period and I bought an MPC to do some instrumental beats for friends. I quickly switched to Ableton, as I wanted to create my own sounds more and more. Then I started learning new instruments in order to record them, which is very different from sampling, but I felt more at ease.
So, tell us more about Beat Tape Vol. III.
This 3rd and last volume is different from the first two. I allowed myself to make compositions that are more personal, and you can find real songs as well as 100% hip hop instrumental. The tape is also more electronic than the previous ones: it enables me to link it with my future projects that will be influenced a lot by the house trends, French Touch and future beat.
And the other project with your buddy Walass called Selecta. Tell us more about that and how that came together.
Oh yes, François aka Walass used to be one of my teachers where I studied mao. He's not older, he's just a genius when it comes to technic and electronic music. We used to play one after the other at concerts that we organised with our old label Misrishi Records when he proposed me to make something together. Selecta allows me to explore genres that doesn't really match with Laster's identity right now, and also play with a passionate friend. After our first EP released on  Chill Masters Records, we are now working on a live set that will blow your mind!
This being your third volume, I am sure you learned a lot since the first. How did your approach to music change since the Beat Tape Vol. I?
Combining those creations under the form of tapes allowed me to show people different influences without having to think too much about the formats. I think I am still at the beginning of my journey, and because I do everything by myself, you can clearly see the evolution of the mix's and composition's quality. I use less and less samples and I try to get out of the instrumental format, which I started with: it's a difficult, but very interesting exercise.
Being a musician, how did you get into playing guitar and keys? Any influences there?
When I was young, I wanted to be a guitar hero, I was making videos on Youtube of Satriani's solos, Steve Vai or even Santana. When I started composing, I realised that I had much more to share. I try to play piano and bass everyday and I dream of being able to record my own drums, so it may be my next purchase!
What about your studio… what does your production set up look like?
I just moved to a small town in the Toulouse area with a friend and I am lucky to now have a room dedicated to music. Actually, I work on ableton with a master key and a small MPD from akai for the samples and drums. I also have a fender american special (I used to play on an amazing ibanez s4170, but she's getting old now), a Squier jazzbass and a nordstage, which I bought from my dad. Recently I bought myself a microkorg which is an amazing synthetiser for the price. Concerning the VSTs, I'm using kontakt, massive, the arturia collection for the analog touch and the amazing lounge lizard for electric pianos. I think I am quite fine for now, but it's never enough, as you know.
What are you up to the rest of the year?
Next to music, I have side jobs, mostly boring and short. Nothing is better than a sleepless night in the studio. Otherwise, I like taking pictures, buying vinyls and do a lot of sports to decompress.
Any last words of wisdom or things you'd like to share with the readers?
If you are an artist, be cool with yourself, and take your time to get to know yourself and to know what you really want. If you're a different kind of human being it works, too. And yeah, I plan to remaster the 3 beat tapes and upload them on all streaming platforms, I will let you know my friends. Love.