If the Hamburg trio Fuck Art Let's Dance aimed for picking a cheeky name, they surely did a great job! It was virtually impossible to resist clicking on their name while browsing Soundcloud, a decision I definitely do not regret! Spending a few good hours on their music (the track I'm sharing today is from their previous release), I do realize what they meant by choosing that name. Their combo of indie,  and synth pop, slightly spiced up with a mathy elements is the ultimate experience for all of us who feel like moving and shaking in a ridiculous way (or as some people refer to it - dance).
After playing around Europe, the guys just had a gig at the highly-buzzed SXSW, so I reckon things are picking up for them in the right direction!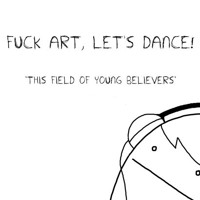 FUCK ART, LET'S DANCE!
Pages
Pages - FUCK ART, LET'S DANCE!
04:25