3rd October , 2018
While artificial media invasion of our minds can, at times, leave us feeling hopeless, many attest that music connects us to authentic, hope-giving goodness, binding us to something bigger than ourselves: community. Communal orientation give us the tools to bring change, and in the music space, there's one organization actively in the business of fostering that -- Canadian independent record label Westwood Recordings.
We had some words with label owner and producer Nick Middleton of The Funk Hunters to learn more about Westwood and how they're taking the power back in the era of streaming over CDs. Not only this, but how they're actively involved in and contributing to a notably dedicated culture surrounding electronically-infused soul and funk music.
The Westwood 100th Release Compilation benchmarks what happens when you do it for the love. In a bountiful arrangement of funky flavors from industry veterans to up-and-coming producers, we get a harvest of sounds from all over the globe including unreleased tunes coming straight from their vaults. Give the compilation a listen while you read on some of the adventures of Westwood from inception up to this from the label owner himself.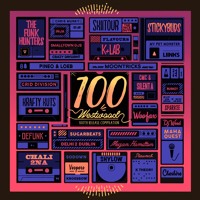 Westwood Recordings
Westwood Recordings 100th Release
Krafty Kuts - 4Gee$ - Westwood Recordings
04:26
Defunk - Twisted - Westwood Recordings
03:16
Stickybuds & K+Lab - Clap Ya Hands Now feat. KWADI (VIP Mix) - Westwood Recordings
04:13
Grid Division & SugarBeats - Good For You feat. Megan Hamilton - Westwood Recordings
03:24
Big Gigantic - Got The Love feat. Jennifer Hartswick (The Funk Hunters Remix) - Westwood Recordings
03:45
Stickybuds & K+Lab - Clap Ya Hands Now Feat. KWADI - Westwood Recordings
04:15
The Funk Hunters & Chali 2na - GET INVOLVED feat. Defunk - Westwood Recordings
03:52
Moontricks - Home - Westwood Recordings
04:48
Opiuo - Life feat. Gift of Gab & Syreneiscreamy (SugarBeats Remix) - Westwood Recordings
04:12
Shylow - Help Me - Westwood Recordings
04:01
Megan Hamilton - Gotta Know Feat. Mars Daniel & Chuck Love (Original Mix) - Westwood Recordings
03:33
Moontricks - Solar Therapy (Woofax Remix) - Westwood Recordings
05:20
The Funk Hunters - Soul City - Westwood Recordings
04:55
Maha Quest - Doctor Fumu - Westwood Recordings
04:09
The Funk Hunters & Chali 2na - WORD TO SPREAD feat. Tom Thum - Westwood Recordings
03:30
The Niceguys - King Of The Street feat. Leo Napier - Westwood Recordings
03:51
SkiiTour - So Much Disco - Westwood Recordings
03:47
Delhi 2 Dublin - California (Original Mix) - Westwood Recordings
03:26
Kingfisha - Looking Glass (Ed Solo Remix) - Westwood Recordings
04:30
DJ Wood - Sky High (Original Mix) - Westwood Recordings
03:57
Flavours - Judder Pop - Westwood Recordings
02:42
Delhi 2 Dublin - I Got To Have It (Odjbox Remix) - Westwood Recordings
03:49
Vespers - In The Wild (Original Mix) - Westwood Recordings
03:56
PINEO & LOEB - Don't Go… feat. Quake Matthews & Concordia (Original Mix) - Westwood Recordings
03:33
The Funk Hunters + CMC&Silenta - Soul Beat (Utah Jazz Remix) - Westwood Recordings
05:38
Westwood Recordings 100th Release DJ Mix (Mixed by The Funk Hunters) - Westwood Recordings
55:14
Hey Nick! Great to have you and congratulations on this milestone for the label. How does it feel? What does this event mean to you?
Thanks Mike! Feels so great, it's been such a labor of love growing this label over the last five years --- and so it's kind of surreal now take pause and look back at what we've accomplished. Westwood really started as an outlet for me to release my own music, then eventually became a home for my closest friends and collaborators. Now 5 years later we've got 100 releases that spans across 43 different artists living in almost every corner of the globe. So cool. I guess "proud" and "inspired" are the two biggest feelings today!
This 25-track compilation is hand-picked by you. Tell us more about it.
When we sat down to figure out what our 100th release should be, we thought instead of focusing on brand new music which we've done for the last 100 releases, we'd go backwards and work our way through our catalog to pick out songs that our audience today might not have heard or just that really meant something personal to me. I literally listened to 5 years of music over the last few months. And then, of course, we have some fresh surprises on there too! So there's 20 songs I've picked out from our catalog - dating all the way back to a remix of our very first release! – and then there's also brand new music from the likes of Krafty Kuts, Stickybuds, K+Lab, Megan Hamilton, SugarBeats, Grid Division, and even a remix that The Funk Hunters did for Big Gigantic on there too! So it's a pretty diverse and all encompassing snapshot of the depth of Westwood.
The past five years must have been a whirlwind for you building this label. What surprised you about the process of building Westwood and about the results it yielded?
I think firstly just that you have to be adaptable. You have to be ready to try new things and be willing to change. The music landscape is constantly evolving as the industry continues to adjust for the streaming age we're now in. So while some may have felt the industry crumbling, I really felt like with such uncharted territory ahead it was actually more important than ever to build a team, and build a community of supporters around our music. Tthe best path forward for me to do that was to start a label. I think in the current DIY ethos what's often lost is just having a team - whether that's your roommate, your partner, your manager, whatever -- you need support to get your art out there. And so that's what we've built, a backbone of support for our artists and their music. Sure, CD royalties were mind-blowing in terms of numbers, but that age will never happen again. Today as an artist you can instantly have access to like 100 million unique music fans streaming music around the world on Spotify or Apple Music – that to me just feels like we've now opened up new opportunities we just never had before!
What have been some notable opportunities, moments or adventures you experienced in the past years solely because of Westwood?
I think honestly the coolest thing has just been seeing our music get support in the most unlikely places, or maybe where we naively thought our music wouldn't end up. I started the label in 2013, because I felt like there was no suitable home for my music. No one who believed in it as much as I did, but here we are only a few years later and music from the has been featured on Global Spotify Playlists, the top of Apple Charts, in a worldwide Sony Trailer for the new Spiderman movie, and consistently being picked up for shows on streaming services like Netflix, Hulu, and traditional TV. So that's been pretty rewarding, clearly our taste and passion for funky soulful electronic music has resonated, it was just a matter of figuring out how to make it presentable to that side of the industry.
That passion for soul and funk-influenced electronic music exists in many corners of Planet Earth -- from Canada to the UK to Down Under. Being an active participant of this, what is this movement about and what makes it unique?
It makes you feel good! Whether its bumping dancefloor stuff or something to put on while you're driving to work, it puts a smile on your face, what could be better than that? Our entire roster has known this since the day they got inspired and decided to start making their own music. We all seem to have a shared love for old funk and soul, and now we're just expressing it in new ways. The music on Westwood has never been more diverse, there's all different tempos and genres, but there's certainly a common thread to the artists we work with. There's an element of soul in there, some heart…just something that makes you feel good. And the market for it is growing. Look to someone like Bruno Mars or Mark Ronson on the commercial side of success, or to acts like GRiZ, Gramatik, or Big Gigantic here in North America that have come very much from the underground electronic culture to now being billed (and streamed!) as top tier festival acts. So that's just been overwhelmingly positive and encouraging to see, and like anything else, there's a huge trickle down effect. I'm just so happy to see it finally paying off for so many of our artists that have stayed true to themselves, their sound, and the music they love, to now see them or hear their music on bigger and bigger stages. It's a promising sign of whats to come for all of us - music makers or music lovers - the funk will never die!
Stream Westwood's 100th Release Compilation on all platforms