These days, select artists are redefining electronic music with sampling and acoustic elements. Electronic hiphop, soul, and funk remain at the frontlines of this musical era, which seems to be influenced by a colorful array of interpretations by artists all across the earth. France is a special nation when it comes to hiphop, as they've seen lots of influence in this genre alone and in recent years electronic hiphop has become more popular. Some of these artists have branched out and realized unprecedented success, like two beatmakers out of Paris, The Geek x Vrv. When we heard the Parisian duo would make a stop on their European tour in Berlin (where some of us are based), we knew we had to be there.
This group is a special case in the scene of sample-based electronic production being identified somewhat early on in their careers. Initially placing their music in the right ears, notably from the track "It's Because", they reached audiences on French radio eventually getting the attention of Kansas City-based independent electronic hiphop label Philos Records. With this label, they would release one of their early EPs Amicalement Votre as well as two BTOS ("Back To the Old School") beat tapes, which remain popular releases to this date. These events combined with the nod of american electro-hiphop-soul godfather, Pretty Lights via exposure on "The Hot Sh*t" podcast... their momentum on North American soil began to take root.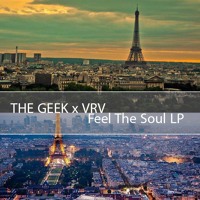 The Geek x Vrv
THE GEEK x VRV - it's because
THE GEEK x VRV - it's because - The Geek x Vrv
03:21
It wasn't before long that the Parisians would garner more support from other industry influecers following their quick growth.  GRiZ's cutting edge future funk collective, All Good Records, stepped in for their release Electric City EP. Such an album gave the right listeners a taste of the French electro soul sound, which soon after, paved the way to joining Gramatik's Lowtemp Music squad as well. Since then, Axel (The Geek) and Vincent (Vrv) have been set up to marvel audiences across the globe with their booming European style.
Inside of Berlin's famous Gretchen Club, The Geek x Vrv shared the stage with French producer and lyricist 20syl of C2C and highly-respected hiphop & jazz group Hocus Pocus as well as vocalist Mr. J Medeiros of The Procussions - both under the moniker AllttA ("A little lower than the Angels"). Knowing the roots that fellow Frenchman 20syl has grown and the influence he's cultivated internationally, it gave this show a plot and felt as if The Geek x Vrv stood on symbolic proving grounds.  Just before their performance, AllttA brought the crowd on a ride to a height that would be difficult for any act to match. It was then up to the Parisians to pick up the pieces, which they did so properly by reassembling everything into a funky, bass-heavy bonanza designed to carry everyone back down to reality. The show, as a whole, reminded us that concerts are a dedicated time to enter the live musical realm for enjoyment and inspiration, which the two acts coordinated impeccably.
The Geek x Vrv rattled their audience with live beatmaking, coordinated sample mixing, live sax, and keys filling the space with concentrated chaos. Check out the live pictures and the words the two lent us about their history and what they're up to.
How did you guys start making music together?
We use to make music as "the geek" and "vrv" for a long time now. Axel (the geek) played at some parties in paris where I use to go back in the days.

One of my friends was a photographer at these parties and he spoke to Axel about me, then we started chatting on Facebook, and quickly decided to make something together. After two or three tracks together, we were really happy about the feedback we got, so we worked on more beats, and more, and more, and we never stop !
You picked up a lot of traction in North America… what events or people helped you guys get discovered there?
We are really honored about that, it's crazy when you make music in your bedroom to receive support from people who live so far ! I think we both have the same influences, like Gramatik, GRiZ, and Pretty Lights, for example, they all make crazy music and the US is their biggest territory, so we wanted to spread our music in the US... not to "be like them", but because we knew that there is an audience there, and I think like every other artist, we wanted to make people hear us.

We sent our tracks to some artists there (like Artifakts, Late Night Radio, Krooked Drivers), and to Philos Records, having their support was crazy for us, it was the first time for us to have support from so far. We also had the chance to be featured on Pretty Lights's hot sh*t mix... we received tons of messages from people saying they really liked our music, later we had a release on Lowtemp Music, and All Good Records. We are really thankful for the people, label, and artist who support us there and make us being able to travel there to play our music.
You guys have created a live show… what exactly makes your show live?
The firsts shows we did was just us (Axel and Vincent), we quickly wanted to add something to the machines, we met Basile (he plays saxophone and keyboard), so we spoke with him shortly and tried a show with him -- that was two years ago, and since this show he is with us at every show. He is an amazing player, and it's a big plus for the show. Axel does a lot of drums on his pad, also samples, and I mostly take care of the structure during the show, while Basile allows us to do more live edit, the whole show is worked with him, he adds some crazy lines on some of the track, or ends some tracks with beautiful keyboards. There are infinite combinations. We often change the setlist during the show, since it allows us to feel more connected with people in the crowd.

Recently, we started to play shows with a trumpet player and another saxophone/bass player, even a singer and a rapper, it's a lot of work, but it's totally worth it ! We are really happy with the result !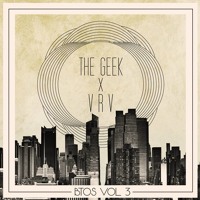 Philos Records
The Geek x Vrv - Midnight Thoughts
The Geek x Vrv - Midnight Thoughts - Philos Records
02:46
With sample-based electronic hiphop becoming more popular, what do you guys think is most important for producers to stand out nowadays?
Pretty hard question to answer, i don't know if there is a good answer. But I think the first and most important thing is to make music you enjoy. I listen to a lot of music, recent or old school, just to hear what other artists do, to get inspired, and to try stuff out - I spend maybe ten or twelve hours per day on my computer making music when I'm home, and I just experiment with sounds almost seven hours. That's what is cool with music, it's like digging a bottomless hole.

I've been making music on my computer for ten years and i discover new things every day, it's crazy. The other thing which is really important for artist is networking, social media, communication, and sending demos to people, it's a big part of the work !
Are there any differences between European and American audiences that you guys have noticed at your shows on both continents?
Absolutely ! it's kinda hard to explain, but we can definitely tell there is a difference between Europe and America, but even in the different states in the U.S. there are some differences, in Europe it's the same case -- it's not the same audience in the north and in the south of France, even. And that's what is awesome is being able to play music in so many different countries and every show is totally different!
What are you guys looking forward to most in the year 2017?
Right now I think it's the U.S. tour ! so excited !! but I think I'm looking forward to the whole year, new music, tons of show... it's gonna be a good year I'm sure !
A special thanks goes out to Marc for the photo coverage. Check out his stuff here!