Just a few weeks ago, I did a write-up on a Derlee, which was actually among the first I've ever done for Stereofox.
At the time, I didn't think I'd have the privilege to catch up with the fellow Pittsburgh-native, learn a bit about his story, and have him grace the ears of our listeners with a minimix.
The mix guides you through the chill-hop & soul he's all about by featuring some tracks by talented artists in this area.
Get yourself ready for a cleansing musical experience.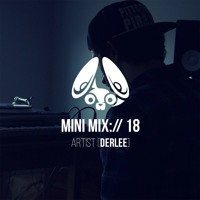 Stereofox.com
Stereofox Mini Mix://18 - Artist [Derlee]
Stereofox Mini Mix://18 - Artist [Derlee] - Stereofox.com
29:46
TRACKLIST:
1. The Groovers - Where You Belong (Original Mix) (0:00-2:23)
2. Handbook - Sunrising (2:23-4:38)
3. Ken Bushima - Hotaru No Haka (4:38-6:38)
4. Styles In Black - The Indweller (6:38-8:48)
5. RjS1 - Purple Snowflakes (8:48-10:25)
6. Daily Bread - In The Darkest Hour (10:25-12:50)
7. Artifakts (feat. Michal Menert) - Not Quite Gone (12:50-15:26)
8. Marcus D - Son Of The Moon (15:26-18:19)
9. Kailo - Say That Way (18:19-21:32)
10. GYVUS - This Time (21:32-24:44)
11. Kinack - Pisa Cero (24:44-29:44)
Hey man, thanks for taking some time with Stereofox. First off, let's get a short introduction from you. Who is Derlee?
Absolutely, Thank you for having me. "Derlee" is a shortened, phonetic spelling of my last name. It's been my nickname since grade school, so it's only natural. My name is Andrew, I'm 22 years old, and I was born and raised about 20 minutes from downtown Pittsburgh, Pennsylvania.
You're from the Pittsburgh area, which I can definitely relate to. How has being from Pittsburgh influenced you as a person and your production style?
Pittsburgh and Western PA in general has really changed even in my lifetime. From a primarily blue-collar, rustbelt region to a present day tech/medical hub, and recently voted "Best Places to Live in The US". Similar to the region's transformation, I'd like to think my music has a warm revival of the past.
Okay now to your music: you released Off the Beat'n Path this year and it is a unique creation packed with sampling and messages. What was the over-arching theme to this album?
"Off The Beat'n Path" is primarily about making choices. We all face decisions on a daily basis, some with more serious complications than others, but each decision we make continues to define our path. These were songs that came about at the time that were inspired by some of these decisions in my own life.
Your brand of Chill Hop / Soul is niche in the world of electro hip hop and soul. What's been important for you to maintain a unique sound?
To be honest, I never really set out with that intention. Working on music is very therapeutic for me. As I keep learning and growing as a person, I think the music is bound to follow.
Any major influences in your music?
I love discovering new music and new artists. It's amazing how many talented artists on Soundcloud that I'm fortunate enough to stumble upon on a regular basis. I think with the ease of access to new music, especially in the world of electronic music, even simply listening through my Stream Feed or Spotify can really provide some great inspiration.
So, you just released some Off The Beat'n Path Unreleased Extras , which has a whole different vibe than the actual record. Is there any overall feeling you tried to capture with these tracks?
The "Unreleased Extras" were pretty much just that. These were tracks that I enjoyed that just didn't quite make the cut for "Off The Beat'n Path" for various reasons. With December marking roughly 6 months since the release date, I thought it would be fitting.
Now, about the crew you're rolling with - Philos Records. Excellent collection of artists.  How did you get involved with them?
Well, it was probably late 2013. I had actually been exchanging messages on Soundcloud with a Croatian beatmaker by the name of "Final Intention". He had recently showed me a new track that was to be included on Philos's Grapevine Vol.5. That release blew me away. I immediately reached out to Jordan, the label manager, and I guess you could say the rest is history.
How have you personally and professionally grown following your involvement with Philos?
Since linking up with Philos, the connections I've been able to make have truly been priceless. It's a constant learning process and I really try to soak up as much as I possibly can. Seeing other Philos artists support some of the biggest acts in the country, and consistently put out high quality material has been tremendous for me. It really inspires me to make the necessary steps to push my music and career further. Jordan and the rest of the label have been extremely supportive of the vision, and I'm excited for what 2016 has in store for Philos Records.
So, what's next for Derlee?
If I only knew! Actually, the next step is making the move to the live circuit. It's something that I have had in mind for quite some time, so it will be exciting preparing this year for that next step. In the meantime, I'll be a special guest alongside a few of my favorite artists and fellow Philos crew, Artifakts and Daily Bread on 4/2 at The Miramar Theater in Milwaukee, WI. I have a small Hip-Hop project with an emcee by the name of Des Brennan that I produced coming out soon, as well as continually working on my next full length release for Philos. I'm also soon to start my final year of Graduate School to be a Physician Assistant. It's fun sort of living duel lives at times. It can also be tough balancing the time, but I'm enjoying the ride.
Thanks again for hanging out with us and throwing down a mix on Stereofox. Any last thoughts or something on your mind you want to leave here?
Thank you very much for having me, and thank you to everyone for listening. It's been an awesome experience for me having something turn from a mere hobby to a passion. I look forward to what the future holds, and I'm excited to have the continued opportunity to share my passion with the world.
There's a journey that music takes us through as we bear witness to the paths taken in life.  Our capacity to guide ourselves and learn through our paths taken can be inspired and influenced by the sounds and messages in music. It is my opinion that this is especially at work in the realm of electronic chill-hop & soul.
Follow Derlee's beat hunting journey on Facebook | SoundCloud | Twitter | Instagram. Feel free to download the mix for free here.