Charles Edison is back with us for another relaxing piece (after the gorgeous chillhop track "I Love You") - "Whales Off PCH".
For those of you who are non-US, PCH is the Pacific Coast Highway, where Charles & his father took a roadtrip and saw whales breaching the waves. Hence, the title of this majestic piano-driven piece.
Despite the fact that we first know Charles Edison as a hip hop artist ("My Mother" and "Bricks" were such a delight!), "Whales Off PCH" is part of a full, super mellow chillhop album, called Vista Point, out now via Golden Ticket Tapes.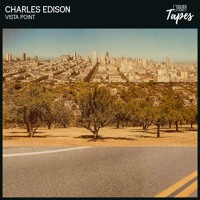 Charles Edison
Vista Point
London To LA - Charles Edison
02:38
Palm Springs - Charles Edison
01:34
Phoenix & Forgotten Passports - Charles Edison
01:52
Flagstaff & Forest Fires - Charles Edison
02:10
Sedona - Charles Edison
02:51
Suddenly, Canyon - Charles Edison
02:19
Skyjump Las Vegas (I'm Scared) - Charles Edison
01:40
Death Valley - Charles Edison
01:42
Lone Pine Under Stars - Charles Edison
01:32
Yosemite - Charles Edison
01:56
Missing The Ferry (San Francisco) - Charles Edison
02:23
Monterey - Carmel - Pismo - Charles Edison
02:27
Whales Off PCH - Charles Edison
02:30
LA To London - Charles Edison
02:14