Last week, we featured "Old Candy" by .tetsuo, which took us to a hip, local cafe vibe with its instrumental samples, while throwing in some raw hiphop zest.  Paul Chikan aka .tetsuo tinkers with sounds from various sources and repackages them into a flavor of jazzhop. While his mix includes no originals, his beat compilation Don't Flip This at Home is definitely worth giving a listen. Now, we're excited to add .tetsuo to the Stereofox mini mix series for a set of tunes to inject your day with some groove.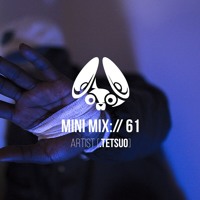 Stereofox.com
Stereofox Mini Mix://61 - Artist [.tetsuo]
Stereofox Mini Mix://61 - Artist [.tetsuo] - Stereofox.com
16:22
Tracklist:
Getting Drunk At The Office Christmas Party - Bonus Points
Alone After All - Proleter
Nobody But Me - Mounika

 

San Frandisco - Granata (prod. FloFilz)
James In Heaven - Moo Latte X Roux
Nomoe blues - KiLaMDaPro
Sam Cook - Illa J (prod. Calvin Valentine) 

 
Hey Paul, we're happy to have you in the mix! Give us an introduction to who .tetsuo is and what he's up to today.
Hey, thanks for having me! Glad to be a part of this. Well, my name is Paul but I go by .tetsuo. Currently in college majoring in music production and sound design for films. I started seriously producing this type of music about a year ago, but started messing around on FL a little while back. Started DJ'ing house and playing the drums before moving to a DAWs.
You just released Don't Flip This at Home… a compilation of thoughtfully-crafted sample-based tunes. Tell us about your creative process behind these tunes. What thinking goes into it? What equipment are you using to make beats? How does it all come together?
Well, Don't Flip This At Home actually came about when I decided to move my music to other streaming platforms other than Soundcloud. I took all the songs that had the most plays on Soundcloud and sort of had the same sound then threw them together. It's a compilation, so I didn't really make them with the intention of putting them together. I made a couple of those tracks a little while back actually which kind of explains the poor mixing on a some of them -- but hey "lo-fi", right? In terms of how the songs come together though, it's just like any art, self expression. Each song and sample in the song directly translates to how I was feeling when I made it. My set up is nothing too crazy just a Maschine MK3, an SP404, and my computer.
You choose some quirky samples from TV shows and other places… tell us about how you choose a sample for your tunes. Is there any criteria you use for sample choice?
Haha, yeah! I love movies and TV in general which is why I have a very big palette of samples to choose from cause I watch a lot of it. Since I don't use my voice on tracks, I like to choose samples that can say what I want to say without actually saying anything. I've sampled everything from the old Adult Swim show The Boondocks, to my favorite sitcom of all time, It's Always Sunny In Philadelphia to Sandlot and much more. It sort of started cause I was tired of listening to too many lo-fi songs with Alan Watts speeches and wanted to try something different, then that sort of became my tag and I want to keep it that way.
Not long ago you put out a collab with Bonus Points called "Malibu". Super fresh instrumental track. Tell us the story behind this one…how did this collab came together?
Oooh, that's a good one! I really love that song. I really wanted to work with Chris cause I was such a huge fan of his music. So I sent him a message and we started talking a little. Then I asked to work on something together; we went back and forth on some songs that didn't work out, then he sent me this one with titled 'funky flute' or something like that and I had so much fun putting my part together on that one and it just felt so organic this time. Sent it back to him and he did his magic and a couple weeks later we had Malibu!
Any other producers you'd like to collaborate with?
Oh yeah! A ton, Birocratic, Brock Berrigan, Tomppabeats, FloFilz, Kiefer. These are just a few producers I really look up to and would love to work with.
What things in life inspire your creativity?
Pretty much everyday experiences. Conversations I have with people, how I feel when it's 3 am in the morning and I just had a cup of coffee, going outside, walking around and just feeling out the environment. Inspiration comes from everywhere. I've also learned not to force things and sort of just let the music create itself through me and I feel like my music has gotten a lot better cause of it.
What's your average day looking like?
I'm on break right now so it's been a lot of sleeping in and staying up all night, working on beats, going outside to skate, watching movies/shows/anime. Just finished the 4th season of Black Mirror in basically one sitting so that happened :)
Who is on your playlist nowadays? What would you recommend we bump in our earphones?
I've been all over the place! A lot of L'orange, Blu, Action Bronson, some metal, some classic rock, and deep house as well like The Black Loops and Boris Bejcha, some Nicola Cruz as well, just to name a few. J Dilla, Nujabes, and Uyama Hiroto are always in the rotation as well.
Any shout outs, anecdotes and/or words of wisdom from .tetsuo? Lay it on us, yo.
Thank you guys for checking out my music! I've been a fan of Stereofox for a little while now so this is pretty gnarly. Shout out to Sblmnl and Bonus Points too! Hope you guys enjoy the mix! And remember, life is way too short to have a bad day. there's always something to smile about.